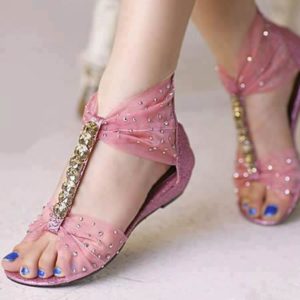 For generations upon generations women have dressed to impress in their professional place of employment. They have worn uncomfortable dresses, clunky jewelry, and unbearable shoes, to name a few things. If a woman dared to complain about her discomfort, she was met with the saying, "with beauty comes pain." Although women have used this saying throughout time as a way to convince themselves to endure the physical torment they were experiencing, in today's day and age, beauty no longer has to lead to such a negative physical feeling.
When it comes to fashion in the professional workplace, there is no better way to ensure a woman's comfort than to give her some cute and comfortable shoes to wear. Every shoe has the potential to be a cozy vessel, a lady just has to figure out what its flaws are, and change them for the better.
In a professional setting, there are only a handful of shoes that society deems as acceptable for women. Two-inch to six-inch heels, wedges, low and high heel sandals, low and high heel boots, and flats are all appropriate foot attire to sport in the professional business environment. However, as fashionable and chic as they may be, these shoes do quite some damage to the average female foot. This kind of footwear causes stress on the ball and arch of the foot, creates blisters and cuts, produces chaffing, and spawns unbearable foot cramps. Luckily today, solutions have been discovered to transform your two terrible shoes into comfy companions.
Tips and Tricks:
Prevent Pain in Arches and Balls of Feet:
Buying inserts for your shoes can be a lifesaver. There are shoe inserts that are made for

arch support

and others that are made to

support the ball of your foot

. These inserts are easy to attach to any type of shoe and are tremendously helpful to those who suffer from having flat feet or from having extremely high arches in their feet.
Keep Your Feet From Becoming Tender: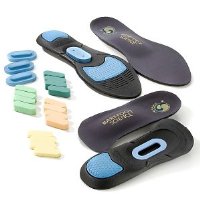 Similar to buying inserts for your shoes, insoles can be just as helpful in providing comfort. There are insoles to assist with any type of foot pain you may have. However, sometimes insoles are used solely (no pun intended) to provide a little extra cushion to your step.
Minimize Sliding to Prevent Blisters and Chaffing:
The easiest way to stop your foot from sliding around, or out of, your flats and heels is to get yourself some heel grips. These little rubber strips are like doorstops for your feet. They stick right onto the inside of your shoe's heel and push your toes forward so that your foot is occupying the full capacity of the shoe, allowing no room for your foot to slip back and forth. Thus, most blisters and chaffing are avoided.
To minimize sliding while wearing boots, put on a pair of fluffy/fuzzy socks. The sock's cushion fills up the extra space in the shoe and protects the skin from all damage.
 Stop Your Straps From Cutting You:
There is a magical little piece of fabric called moleskin that can be applied to the inside of any strap, which automatically softens any sharp strap. Don't worry; the name of the fabric is only a representation. It is definitely not made out of mole!
 Relieve Foot Pain Without The Products:
If for some reason you find a pair of shoes that are beyond repair, beyond ever being comfortable, but too beautiful not to wear, then just wear them! However, make sure to carry an alternative pair of shoes with you. When you feel your feet beginning to give out, just quickly change into your cozier pair of shoes and let your feet heal.
Having cute and comfortable shoes in your workplace isn't as difficult as it seems. Just get yourself the right shoes inserts, or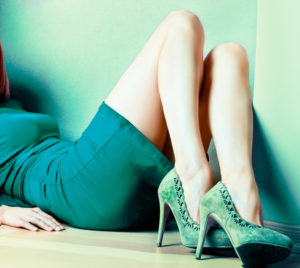 have backup shoes lying around. Plus, any shoe product you need can be purchased online, at any shoe store, or at any local convenience store near you. Just follow these tips and never allow beauty to cause you pain again!