The last two decades have brought upon a lot of change for women, specifically in America. Issues like the wage gap between genders, women's roles in society, and women taking major positions in the working world really started surfacing. An organization that embodies all of these advances for women in society is Dress For Success.
This non-profit organization, as the website states, is one "that empowers women to achieve economic independence by providing a network of support, professional attire and the development tools to help women thrive in work and in life. Since starting operations in 1997, Dress for Success has expanded to almost 145 cities in 21 countries and has helped more than 925,000 women work towards self-sufficiency."
I was actually given the opportunity a couple years ago to volunteer for a few days with the organization's branch in Albany, New York. Even for not being the main hub of Dress for Success, which is in New York City, the establishment was impressive. The amount of effort they put into helping women in their communities is astounding. The Albany location alone was run out of a large office building, where both employees and volunteers work hand in hand with women that are being mentored. There were workshops on resume building and interviews on one floor, employees reaching out to women over social media platforms to help, and a basement filled with new and donated profession attire for these women.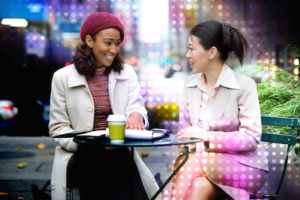 One of my favorite memories was of a young woman, maybe in her mid-twenties, who came into the clothing boutique to pick out a professional outfit for her job interview that was in a few days. I was helping sort and organize the boutique that day, and was given the opportunity to assist her in choosing an outfit.
After trying on a few combinations, the perfect outfit was discovered. This woman had been transformed, surprising both inside and outside. She looked so professional and elegant, and you could literally see her aura beaming from her. I remember her telling me she felt so confident and powerful in her grey pantsuit, with coordinating lavender 2-inch pumps and a lavender button-up shirt. Just moments ago she was quite and reserved. The moment she stepped out of that dressing room it was like seeing a different person. I had never known the kind of power professional attire, what design for success, could bring forth from a person. It's a discovery and life lesson I will never forget.