Boozy Valley Events Coming Your Way This Fall
As the temperature drops, and more and more people come out from their air-conditioned buildings, the local outdoor events start emerging as well. Concerts, performances, bar crawls, festivals, etc. are headed to the Valley of the Sun, and folks are buzzing in anticipation. However, when it comes to the 21+ community, the fall season also means more opportunities to drink in public! In this last week alone, I have been invited to 10 separate alcohol-related events happening around the greater Phoenix area over Facebook, and my calendar is filling up! So, if you are looking to spend your fall days/evenings with a good drink in your hand, look no further. Here are some of the top boozy events rolling into the valley these next two months.
I Love the 90's Bar Crawl ~ September 16, 2017
Bar crawls are an absolute blast in general, but the excitement level is taken up a notch when there is a theme involved. So, throw on your best 90's themed overalls, fanny packs, and flannel button-ups, and head out to Old Town Scottsdale for a load of fun and booze! The event on Facebook tells you everything included in your ticket.
– I Love the 90s Bar Crawl Mug for all your drinks
– No cover with ticket at participating bars
– Drink specials at participating bars
– Crawlers dressed in outrageous 90's gear
– A party with kids from the 90s and the best 90's music
As the page states, "Ticket prices start at $15 and go up as the event gets near! Don't wait, it's your chance to party like it's the 90's all over again!"
Unlimited Margarita and Mojito Festival ~ September 30, 2017
"
Although the temperatures may be blistering, summer always gets a cool send-off with Arizona Summer Ends Margarita and Mojito Festival.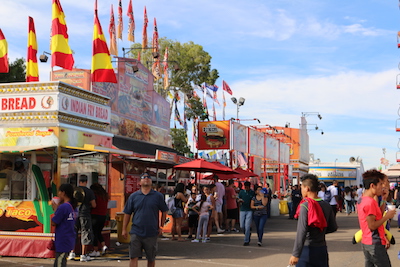 In this ultimate celebration at Chandler's Rawhide Western Town, you can escape the heat by treating yourself to a wide selection of handcrafted margaritas, mojitos and Mexican craft beers. As you're slurping and licking your way through icy samples, you can also keep your energy up by enjoying live music and entertainment.
"
If that description from
the event page on Facebook
doesn't get you ready to drink margs and mojitos 'till ya drop, then I don't know what would! You will definitely find me at this local festival with a drink in each hand! (Margaritas and mojitos are my guilty pleasure.) The great thing about this festival is that it gives you an opportunity to drag the whole family along. Not over 21? No problem!
"Throw in some food trucks and outdoor water games, and you've got a festival that's fun for both non-drinkers and kids of all ages," said the event page. However, if you are itching for a chance at unlimited drinks, tickets start at $30 online, so don't miss out.
Arizona State Fair ~ October 6-29, 2017
Everyone in the Valley of the Sun, and all around the state of Arizona, knows and loves the annual state fair. Stellar rides, exotic shows, raging concerts, and mouth-watering fried foods are on everyone's mind when heading to the Arizona State Fair. However, since I joined the real adult world, I noticed another thing drifting onto the minds of my fellow legal brethren. Booze at the state fair! Around every corner is an opportunity for a cup of beer, wine, or a tasty mixed drink. What better way to spend one of Arizona's greatest traditions than with a beer in one hand and a foot-
long corndog in the other? Head to their website here to get tickets early or to check out some of this year's vendors!
Punk in Drublic ~ October 21, 2017
Punk music and craft beer… need I say more!? Punk in Drublic is, as the website explains, "created from the mind and liver of the band NOFX's frontman Fat Mike and named for NOFX's classic Punk In Drublic album, which has sold over one million copies. This Punk In Drublic festival date will feature up to four hours of craft beer tastings featuring over 100 craft beers, including some of California's best and local favorites."
I personally cannot picture head-banging to some punk music without a little craft beer in my system. So dress in your favorite black crop top, fishnet tights, and combat boots, and rock the night out with your tipsy self! For tickets to this bangin' (no pun intended) event, check out Punk in Drublic's event page here. Rock on and drink on my friends!