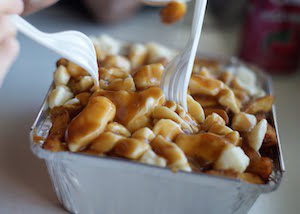 When it comes to traveling across local borders, the two closest (and the two only) countries that are within close reach are Canada and Mexico. Because of such a close proximity, many travelers often choose to traverse to these countries when taking trips or vacations. Now, I don't know about you, but a vacation isn't a true vacation to me without having some delicious local food. So whether you are traveling to Canada or Mexico, keep an eye out for these mouth watering foods to try on your trip out of the country.
Canada is a country very similar to our own, and this translates over to the food as well. However, although similar, their cultural treats are unique and delicious in various different ways. Here are the top foods you must try when visiting our neighboring country to the north!
Poutine
This potato, cheese, and gravy mixture makes you want to eat your fingers off. It is a common delicacy in Canada, and can be found almost everywhere. According to the website Roam New Roads, some of the best places to find poutine in Canada are Montreal, Vancouver, and Toronto.
BeaverTails
BeaverTails (also known as Queues de Castor) are, according to Google, "a Canadian-based chain of pastry stands operated by BeaverTails CanadaInc. The chain's namesake product is a line of fried dough pastries, individually hand stretched to resemble a beaver's tail." These delicious pastries can be customized in various ways with toppings like cinnamon, Nutella, all types of chocolate and chocolate candies, fruit, cookies, and maple!
Tourtière
This savory treat is a meat pie that the locals eat. It is usually filled with either finely diced beef, veal, or pork. The first time I ever saw one, my mind went straight to thinking it was a pot pie. Although similar in appearance, they are definitely different dishes!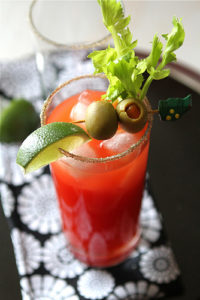 Caesar

Some of my Canadian family members and friends have referred to the Caesar as a better version of the Bloody Mary. In this drink, the regular tomato juice is replaced by Clamato juice, which is a combination of clam and tomato juice. To me, it has always seemed like a more savory version of the Bloody Mary. In the Caesar you can find shrimp, fish, bacon, chicken, various vegetables, and more on top of the beverage!
Butter Tarts
Tarts are always such yummy desserts to indulge on. The butter tarts native to Canada are tart pastries made with butter, sugar, syrup, and egg filled into pastry dough. The tart is baked until the filling gets about half way solid, and until the top is crunchy. It makes for a tasty treat during breakfast, lunch, or dinner!
Nanaimo Bars
My personal favorite Canadian dessert happens to be these mouth-watering, chocolatey, creamy bars! Nanaimo bars are no-bake bars consisting of a wafer bottom crust topped with custard butter icing, and covered with melted chocolate that hardens into a square cover on top of the bar.
Ketchup Concoctions
Canadians are obsessed with using ketchup. They put ketchup in their macaroni and cheese, eat it with their grilled cheese sandwiches, and even have ketchup flavored potato chips! If you want ketchup-y foods, Canada is the place to go.
When visiting our neighbors to the south, not only does the language change, but so does the style of food. In Mexico, food tends to be saltier, spicier, and filled with more citrus. Here are some of the top foods that'll make your mouth water when crossing the border to Mexico!
Mango con Chili y Limon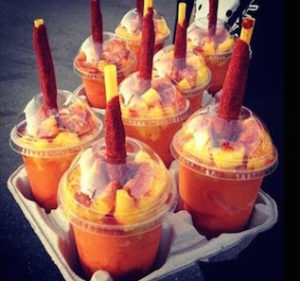 All I lived off of when vacationing in Mexico was the delicious mango treat, mango con chili y limon, or mango with chili and lime. The mango is stuck on a stick, peeled, and then cut to look like a flower. From there you choose whether you want it plain, or with the chili and lime toppings. If you ask for one with everything on it, the vendor tops the fruit with chili power, chamoy sauce, and lime juice.
Elote
I saw a video on Facebook a few months ago of a street vendor making elote for a customer, and I just fell in love. Elote is basically corn on the cob with some extra special additions. This corn is covered with mayonnaise, then butter, rolled in cotija cheese, and then sprinkled with salt and chili power. So yummy!
Tamales
According to  and article on eater.com, "Tamales are one of the most popular street foods in Mexico City, especially for breakfast.The tamal — made from corn masa that's been formed around a filling, wrapped (usually in a corn husk), and steamed, is one of the most emblematic foods of Mexico — and pretty much every state in the country has its own version depending on the local ingredients and traditions." I love tamales personally, and am always up for a shredded beef, shredded chicken, or even green chili tamale for lunch or dinner!
Raspados
I actually fell in love with raspados about a year ago when my best friend and I shared a mangonadas raspados at the Arizona State Fair. Raspados is basically just a hispanic version of snow cones, but much more flavorful in my opinion. The types range from snow cones made with spicy mango, tamarind, and lime to sweet strawberry, fruity snow cones and anywhere in between. They are perfect on a hot day.
Pozole
Although I have never personally had pozole before, I have heard raving reviews about it from many others. Originally used in relation to ancient rituals in the hispanic culture, the soup/stew is now a common item found on the dinner table. This dish is made out of hominy, vegetables, and then a choice of meat (pork, chicken, or seafood).
Chicharrónes
While on our way back to the U.S./Mexico border, my family and I saw dozens of chicharrónes vendors all over the streets. These pork rinds covered in a chili sauce were very popular with the locals and the tourists. I personally appreciate that there are more options other than just having pork rind chicharrónes. Now this snack is being offered with a corn or flour substitute for those out there who don't eat meat.
Tacos
Everyone loves tacos. In Mexico, the tacos made right there on the street by the vendors can be some of the best tacos a person can get! From carne asada tacos to fish tacos to barbacoa tacos and more, you can get practically anything and everything inside a taco! The delicious possibilities are endless.