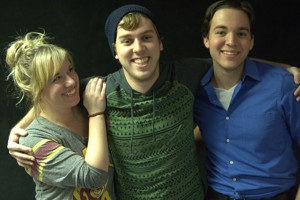 Hearing the words "world premier" as a seasoned theatregoer usually brings about one of two emotions, excitement or disinterest. Knowing the creativity and uniqueness the Brelby Theatre Company has brought to the table in the past, excitement was the main emotion that pulsed through me as I made my way to the Saturday matinee show of Windfall.
Written by Brelby Co-founder Brian Maticic, and directed by Fernando Perez, this show brings to light the real-life struggles three Millennial's face as they venture out into the real world financially, emotionally, and socially. The story focuses on two roommates, Trent and Owen (who couldn't be more of polar opposites), as well as Trent's golden girlfriend, Olivia.
Trent, played by Devon Mahon, is the typical lazy boy/free-loader of the group, letting the hours pass by as he lies on the couch sleeping or playing video games. This character is notorious for losing his jobs, making excuses, and charming those around him into solving his problems. Then on the other side of the spectrum is handsome, hardworking, and driven roommate Owen, played by David Magadan. Also hardworking and driven is Trent's girlfriend Olivia, played by Brelby's second Co-founder, Shelby Maticic. The two, Owen and Olivia, outshine and outdo Trent in every way possible, leaving them tired of cleaning up their slacker's mess. It isn't until Trent's financial debt finally catches up with him that things start to go amuck. Instead of paying back the people he owed in a responsible manner, Trent begs Owen and his successful mother Theresa, played by Megan O'Connor, to once again, lend him money. When both his mother and best friend turn him away, Trent hatches a maniacal plan to remove himself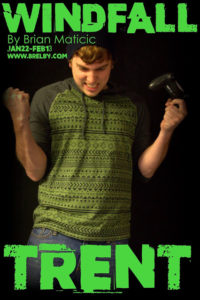 from the financial grid, caring not who he affects in the process. Once free of his debt, Trent discovers he has won a large sum of money through the lottery and needs to come up with another plan quickly to claim his cherished money.
Bringing a light humor into this black comedy are Owen's mom, played by Chelsea Jauregui, and neighbor Randy/Waiter/Yoga instructor, played by Mat Vansen. These two, although not necessarily the most essential to the overall plot, add true moments of comedy and ingenuity that keeps the audience chuckling the entire show.
If there is one thing I want the audience to understand about this show, it is that Windfall is an emotional rollercoaster that rarely sticks with one emotion for long. I personally went from laughing to crying to feeling enraged in a matter of 10 minutes. This wave of drastically different emotions is due to the wonderful combination of a solid script, creative direction, and passionate acting. Although a bit emotionally taxing as an audience member, this constant change of mood keeps viewers on the edge of their seats.
What caught my attention the moment the show began to advance were the clever set changes and uses of space. Brelby, being quite a small black box theater, never ceases to surprise me with the utilization of their space. Windfall had a unique panel on set that held a couch/living room setting on one side, and then when flipped up, held a cafe window and brick wall on the other side. With the work of Windfall's stage manager, Mia Passarella, and her crew, Kim See and Shelby Huston, it was almost unnoticeable when the set was changed until the lights went up.
There were moments in this show I truly will never forget. I was constantly smiling at the interactions between Maticic and Magadan, giggling at the comedy created with Jauregui and Vansen, felt pure heartbreak and sorrow right along side O'Connor, and wanted to murder Mahon with the rage he made me feel. The dream sequences that director Perez brought to life were some of the most entertaining parts to watch. With the help of Jessica Holt's lighting design, Luke Gomez's "on point" sound design, Minnie Cluff's prop design, Cody Goulder's technical direction, Jessie Tully's wardrobe assistance, and Devon Mahon's costuming, everything fit together like puzzle pieces that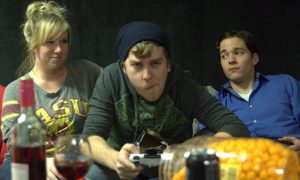 brought together a wonderful performance. To top it off, the ending of this show alone almost gave me a heart attack!
My only critique is I personally felt that some emotional scenes between characters felt almost forced at times. When put up against the heart wrenching, jaw dropping, purely passionate scenes in this show, they stood out like a sore thumb in comparison. I also remember walking out of the theater wishing that Mahon's character had been more likable in the end. He starts out as the bumbling idiot that you can't help but feel sorry for and want to help. Then as his character starts developing more and more you absolutely hate him, which is what Perez and playwright Maticic want you to feel, I know. I was just hoping that in the end (without spoiling anything) that Mahon's character would have had a change of heart. But hey, I guess that's the real world for you. Not everyone has the potential to be the good guy in the end.
After all is said and done, I appreciated the nerdiness, the comedy, the emotional rollercoaster the audience is put on, and the connection you feel to the characters. This show made me genuinely care about the characters in it, and I couldn't help but root for them to succeed.
Windfall runs for one more week, closing on the 13th of this month. If you haven't seen it yet, I recommend you make a trip to historic downtown Glendale and pick up a ticket. This is a show you do not want to miss!
Head to Brelby.com for tickets and more information.