Leftover Easter Candy Creations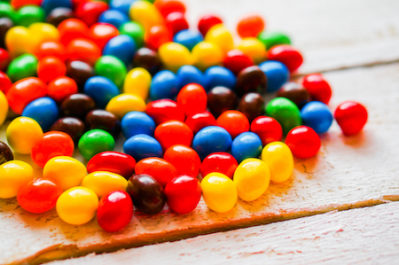 Now that Easter has come to an end, stores will be looking to rid themselves of all their current holiday candy in order to start stocking for the next one… and I hope you know what that means! Candy sales! Oh how I absolutely love the day after candy sales at my local Walmart or Fry's. Candy that was once $4.99 becomes a beautiful $1.99 or less! While you're filling your cart with half off chocolate, jellybeans, peeps, and bunny and chick lollipops, you might start thinking of what you are going to do with so many Easter goodies. While eating the sweets exactly the way they come would be fun, transforming the candy into even more creative and delicious treats sounds more fun doesn't it?
I did a little digging, and compiled a list of what I believe to be the best after-Easter recipes for all of that leftover candy you bought or already have! So hop over to the kitchen, throw your apron on, and enjoy!
Jellybean Bark
With so may jellybeans left over or on sale from Easter, allrecipes.com came up with a brilliant way to use them; make jellybean bark! Not only is it adorably colorful, but it is absolutely tasty too.
Ingredients
1 pound white confectioners' coating
Jellybeans of your choice
Directions
Grab a pan and line it with waxed paper.

Melt the white confectioners' coating in the top of a double boiler over just-barely simmering water, stirring frequently and scraping down the sides with a rubber spatula to avoid scorching. Once melted, spread the white confectioners' coating onto the prepared pan.

Sprinkle the jellybeans over the top of the white confectioners' coating once fully spread across the pan.

Refrigerate for at least 1 hour or until firm. Break into pieces to serve.
Peeps Rice Crispy Treats
I have had friends use this recipe before to rid themselves of all the leftover peeps littering their Easter baskets. So after scrolling through a few different websites, I found a recipe that lived up to my rice crispy expectations on the website yellowblissroad.com.
Ingredients 
4 packages (3 oz.) of Peeps (whatever colors you want)
Butter
1 box of Rice Crispy cereal
Directions
Completely line a loaf pan with tin foil.
Grab four separate microwavable bowls or glass measuring cups (make sure they are pretty deep).
Empty each pack of the Peeps into their own separate microwavable bowl/container.
Add a tablespoon of butter into each bowl.
Microwave the first bowl for 45 seconds in the microwave.
Remove the bowl and stir the Peeps and butter together until fully combined.
Pour a cup and a half of the crispy cereal into the bowl and stir with a spatula or spoon until fully incorporated with the Peeps. *Tip* Spray the combining tool with cooling spray to avoid the mixture sticking to the surface.
Place the mixture into the pan and press down firmly.
Repeat steps 5-8 with the rest of the colors of Peeps, layering each new mixture on top of the others in the pan.
Allow to cool completely (1-2 hours) before slicing and serving.
Cadbury Brownie Bites
BuzzFeed has an absolutely delicious after-Easter recipe listed on their site that they actually found from deliciouslysprinkled.com, and it's already making my mouth water. I don't know about you, but I LOVE Cadbury Eggs, so baking them into a cupcake sounds heavenly.
Ingredients
1 box brownie mix
2 Cadbury Creme Mini Eggs 12-Pack
 1 cup butter, softened
4 cups powered sugar, sifted
¼ teaspoon salt
1 tablespoon vanilla
2 tablespoons milk
4 drops of yellow food coloring
Sprinkles
Directions
Mix the box brownie mix according to the package directions.
Spray a mini muffin tin with non stick spray.
Fill each tin with 1 teaspoon brownie batter.
Bake at 350F for 11 minutes. Remove from the oven and let cool 2 minutes.
Press an unwrapped creme egg into the center of each brownie bite. Let cool another 2 minutes.
Mix the softened butter on medium speed with an electric or stand mixer. Beat for about 3 minutes until smooth and creamy.
Add powdered sugar, milk, vanilla extract, and salt. Increase to high-speed and beat for 3 minutes.
Add 4 drops of yellow food coloring and stir until fully colored.
Frost cooled brownie bites and sprinkle sugar sprinkles on top.