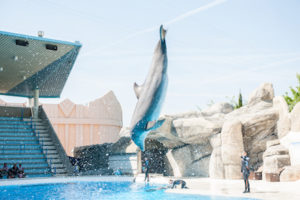 Dolphinaris AZ is a swim with the dolphins program that has recently opened up in Scottsdale, Arizona. Although a swim with the dolphins attractions seems like a unique and fun form of entertainment in the valley, many  people are against having these mammals in captivity… especially in the middle of the desert.
Dolphniaris AZ opened its doors October 15th, and has been open for business since then. The facility runs every day of the year, even holidays, from 9am to 5pm. The dolphin entertainment center houses 8-12 bottlenose dolphins that were all raised in captivity, and offers four different programs visitors can participate in. The public can pay to participate in a dolphin land experience (pet and witness dolphins on land), dolphin swim experience (swim and interact with the dolphins in shallow water), deluxe dolphin swim experience (swim and in shallow and deep water as well as interact with dolphins), and dolphin trainer experience (learn basic trainer methods of working with dolphins up close and personal).
To combat the ever-circulating controversy around having captive dolphins in Arizona, Dolphinaris AZ has information located all around their website as to why the dolphins are in the best care.
"Concerned about the welfare of the dolphins? We are too. Rest assured that at Dolphinaris, the dolphins receive the highest level of care possible from animal behaviorists and veterinarians dedicated to their well-being. In fact, Dolphinaris adheres to the highest national and international standards of dolphin care, even higher than U.S. standards alone."
However, many people are still not convinced. Here are some Google reviews on the swim with the dolphins location in Arizona. Not all were negative reviews, but the majority were opinions against the establishment.
Google Reviews, Average Rating: 1.9 stars
"Shameful exploitation of these beautiful animals. Will never support this." -Aleksandra Oldak, 1 star rating
"The love and respect they have for the dolphins is amazing! Before posting or a negative opinion come in and see how well they are taken care-of. Beautiful location and friendly staff! Great vacation spot!"– Alejandra Herrera, 5 star rating
"Dolphins do not belong in the desert. Their health will suffer greatly during the summer months. By taking your children here, you are only contributing to the suffering of dolphins. They belong in the ocean." -Jim Grindley, 1 star rating
"This is animal abuse!!! Please do not support this place by visiting. There is nothing educational about holding mammals in small tanks and forcing them to swim with humans so this company can line their pockets with money!!!" – Penny Parker, 1 star rating
"Diverse programs for a lot of people's comfort and super friendly staff. It's pretty evident after talking with the staff how much thought went into this specific facility and you can tell the animals are very well cared for." – Brigid Dodge, 5 star rating
What do you think, should dolphins be kept in the desert to educate the people, or be left in the ocean to live freely? Let us know in the comments below!