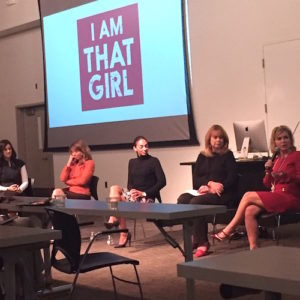 Arizona State University is a diverse campus that houses many different national organizations dedicated to fostering growth, love, and personal success in its members. One of these groups that supports such values through its education on feminism in today's society is the organization I AM THAT GIRL. This group so far has created 170+ different chapters around the nation, sponsored more than 2,000 girls, and has about 670,000 girls  that have taken the pledge online to "love, express, and be exactly who they are."
Last night, at ASU's Downtown Phoenix campus, the local chapter of I AM THAT GIRL held a panel focusing on Self Love and Empowerment in spirit of the upcoming Valentine's Day and Feminist February. In accordance to this chapter's motto, "Turning self doubt into self love," five working female professionals were invited to share some insight on their personal journeys of self love and empowerment that led them to the successful/enriched lives they live today. Mary Jo West, the first prime-time anchorwoman in Phoenix; Felicia Rotellini, a strong lawyer in the Arizona Attorney General's office; Alyxis Trujillo, who is developing a Collegiate Football Player Identity Development program; Chana Goldstein, the author of the successful blog 'ReclaimingPink,' and SmartFem.com's own Lea Woodford, who started the SmartFem magazine in order to protect and serve women were the evening's hi-lighted panelists. Not only did these women answer the questions asked, but they shared many vulnerable moments of their lives with the audience, illuminating the fact that true self love takes dedication and patience to find.
Hosted by the leaders of I AM THAT GIRL: ASU Amanda Luberto, Tamsyn Stonebarger, Mackenzie Halter, and Monica Sampson, the night was a spectacular experience from start to finish for all who attended.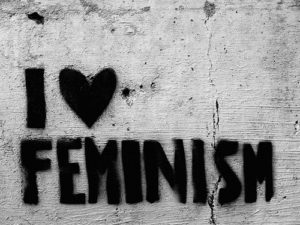 The night began with mingling between panelists, guests, and hosts over well prepared finger foods and pastries. When it was time to begin, guests took their seats quietly, pulled out note pads and computers, and readied themselves for the information to come. With the help of the chapter's faculty sponsor Pamela Stewart as facilitator, the panel began.
The women's first substantial question asked when it was in their lives that they realized they were feminists. Chana Goldstein started the conversation by describing her experience when applying to work for different law firms. She explained how she remembered reading certain laws and policies geared towards women that came off to her as "absolutely disgusting." From that day on she knew she wanted to change those laws for the better. Mary Jo West told the audience it was a news story she covered right out of college that made her realize her love for feminism. She was assigned to interview a corrupt sheriff, whom didn't take her seriously because she was a woman. Mary Jo knew it was only natural to prove him, and all the other men, wrong.
After a few other questions had gone by, Pamela asked the women if it was possible to find a balance between their demanding careers and their personal lives with loved ones. Felicia decided to share her story of how she came to truly love her life. She was raised in a traditional Catholic family, who pushed her to grow up, get married, and have children. However, the older she got, she realized this wasn't the way she wanted to live. After the constant bombardment and pressure, Felicia decided to live life the way SHE wanted. After enrolling herself in law school, she divorced her first husband (then later a second husband) and focused on her studies. Further on in life, she balanced her professional life with the time she spent with her new boyfriend and puppies at home. Felicia shared a piece of her advice with the audience, telling everyone to "always maintain humility, and just be true to your values." Shortly after her, Lea Woodford shared her own personal experience with finding the balance between her professional and personal lives. Marrying young and divorcing at the age of 23, Lea gave up her journalism dreams for her husband and two children that came shortly after. Once she realized that "the man was not the plan," she worked hard in sales and marketing to support her and her children. However, her true professional goals were further put on hold until her second marriage and an additional child Lauren. It wasn't until Lauren was a bit older that Lea decided to continue her journalism career. Later on, when Lea was inspired to start SmartFem.com, she suffered two traumatic experiences, a second divorce and cancer. Throughout her troubles, both her professional and personal lives were enriched by business partner and current husband, Paul Woodford. Lucky for Lea, she has been able to maintain balance with her career and her loved ones since that day.

When asked about the difficulty of finding oneself, Alyxis Trujillo took the microphone. She explained that such a topic was something she was trying to educate her athletes on. Through her developing program 'We Made It Beyond Sports,' Alyxis pushes collegiate football players to identify themselves and their accomplishments in life beyond their sports career. Spending much of her life as a professional dancer, Alexis had to find who she truly was to genuinely appreciate her life's accomplishments. She believes "you have to find yourself before you can love yourself."
At the end of the event, each speaker left the audience with a quote/idea to take home with them. Chana expressed, "We do not submit to feminism, we subscribe to it." Felicia compared life to the children's song, "Row Row Row Your Boat." We row through our life living the way we choose. We express happiness on our journey as we move along. Life is but a dream, so make the most of it. Alyxis specifically told the audience, "You are not defined by the situation or circumstance that you are in." Lea reminded everyone to find their voices, and that everything else would go from there. Lastly, Mary Jo demanded that everyone rid themselves of the F-word, fear. Fear is the one and only thing keeping the world from reaching their dreams and full potential, so "get rid of the F-word."