It's official: Rosé wine is trending. In big-city bars and upscale bistros, Rosé is now at the top of the wine list. But make no mistake about it: this is not the sweet, cheap White Zinfandel that's given pink wine a bad name in North America.  These are crisp, dry wines from places like Provence, Tavel and Mendoza.
"Real" Rosés are dry wines traditionally made and consumed as the "wine of summer" in Europe. They show delicate fruit notes — think strawberries, cherries or melon — and finish crisp and clean. If you haven't enjoyed a chilled glass of Rosé by the pool, with brunch, or as an aperitif, then it's high time you did.
TIP: Rosés are meant to be consumed young and fresh, so look for vintage dates just a year or two old. And you don't have to spend a lot: there are plenty of nice still Rosés in the $10-$14 range, and sparkling from $16-$20.
Rosé wines can be made from almost any red grapes, but typically use Grenache, Mourvèdre or Pinot Noir. The juice from these grapes is clear, but picks up pigmentation as it soaks with the skins. So very simply, the amount of skin contact determines the depth of color in the finished wine. That's why you'll see Rosés that vary in color from pale salmon almost to magenta.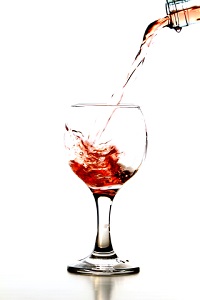 You should start your exploration of Rosés by sampling a few classic styles. Provence in Southern France is known for the very pale and delicately flavored Rosés that are favored by the owners of the yachts that dock at the French Riviera. Compare this to a Spanish or Argentine Rosé that's deep in color and intense in its fruit character. (If you typically drink bold, dry reds, you'll probably enjoy these Rosés.)
And don't forget the bubblies. While Rosé Champagne starts at $40 and can go much higher, there are great pink sparkling wines from Burgundy (called  Cremant de Bourgogne), Alsace (Cremant d'Alsace), Spain (Brut Rosé Cava), and of course, California and Washington.
Pink wines are great for sipping, but also make good food wines. Try them with an appetizer like Smoked Salmon and Boursin Cheese Crostini,  or a tray of fruit, nuts and soft cheeses.
Here are a few good choices to get you started on your Rosé adventure: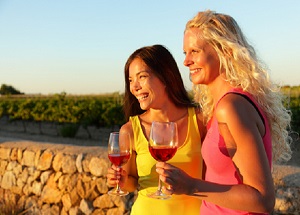 Chateau de Nages Buti Nages Rosé — Costieres de Nimes, France    $12
de Susana Balbo Rosé — Mendoza, Argentina. $13
Belle Glos Rosé of Pinot Noir — California  $18
Gruet Sparkling Brut Rosé — New Mexico (It's from New Mexico and it's great!)  $18
And of course, the BrAngelina wine, Chateau Miraval –– Provence, France. $24
Dare to drink Pink!