Dr. Richard Brown is not like every other plastic surgeon. Just ask his staff!
SmartFem.com interviewed a few talented ladies on Dr. Rick's team to find out about the recent Breast Cancer awareness run they participated in as well as trying to figure out why Dr. Rick truly is the best surgeon in the Scottsdale area.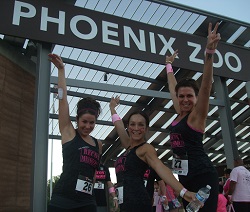 SmartFem:   Why is Dr. Rick so different from other plastic surgeons and what is it like to work for him?
Brittany: Dr. Rick, his difference is his compassion with his patients. I can truly see his genuine personality when he talks to patients I feel like he's actually a real person and that's what's awesome about Dr. Rick. Honestly, [working for him] is fun. He brings such an awesome environment. He's real and it's really nice to work with someone who brings a real environment.
SF: Was there a reason in particular that he put a team together to run for breast cancer?  Was he touched personally in some way?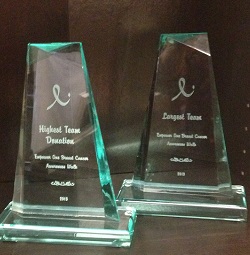 Kati: Dr. Rick has been doing breast reconstruction for about five years now. He's an excellent surgeon. His patients just love him. We were looking for something fun to do with our patients and also to promote awareness about breast cancer. We found out about the Empower Breast Cancer Awareness Walk and the timing totally worked out. Lucky for us, the Breast Cancer society was amazing to work with. We had so much fun we had 52 race participants, 74 supporters and we raised about $2,000 dollars. We actually ended up winning awards for the largest team and the highest team donation.
SF:  Does he have any certain areas of expertise?
Laura: Recon (Reconstruction) is a large part of our practice right now but I think what makes him so great is his bedside manner. When the patient enters the room they feel like they're talking to a friend. They're with someone they can trust who always has their best interest in mind. He has obvious talent with the treatments and surgeries he does but he treats the whole patient and not just the ailment
SF:  What is your favorite patient story?
Octavia: I would have to say my favorite patient story is in regards to a breast cancer patient and she eventually did pass away from breast cancer the reason for that is because she maintained such a good attitude she was positive upbeat throughout every struggle, and not just herself. Her family, her children were right on board with her. It was even more touching to me because Dr. Brown and his wife went on a family vacation and, I believe it was either on the way there or home, they stopped and visited her. They gave their personal time to her. Outside of the office he really takes initiative
SF: What is one thing about Dr. Rick that most people don't know?
Brittany: Dr. Rick has a competitive side. He is really into working out and "Crossfitting." He has passion in that. One thing that people should know, is that if they're going to compete with him, he's got it.
The staff at Dr. Rick's practice know he is a genuine doctor who has every patient's best interest in mind. Dr. Brown is different from other surgeons because he goes out of his way to ensure a patient is happy inside and outside of the office. For a Scottsdale based surgeon who will listen to his patients' needs, Dr. Richard Brown delivers in all aspects of his practice.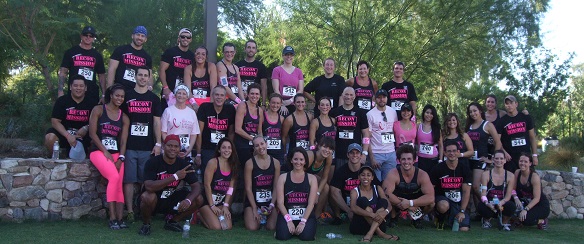 Dr. Richard Joseph Brown "Dr. Rick"  is a plastic surgeon serving the Phoenix, AZ area with practices located in Scottsdale, Arizona, as well as Sun City West.  Dr. Rick is an expert in the field of plastic surgery and frequently contributes to SmartFem. 

 877-590-1169