The Italians have always been incredible designers when it comes to shoes and handbags but now it's time to add the 2015 Alfa Romeo 4C to their list of accomplishments.  Wherever we drove this alluring automobile, people would look.  If we left it alone long enough it would draw its own crowd of selfie takers looking to pose with the star.
Alfa Romeo 4C Review Video
The 4C is the evolution of the classic Alfa Romeos, famous for their revolutionary styling. A modern, carbon fiber chassis makes it lightweight, quick and even fuel efficient. Carbon fiber is far lighter and stronger than the traditional steel used in today's cars. The sleek lightweight body design equates to exhilarating acceleration, great fuel economy, sharper handling and a lot of fun.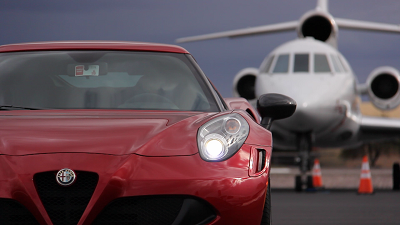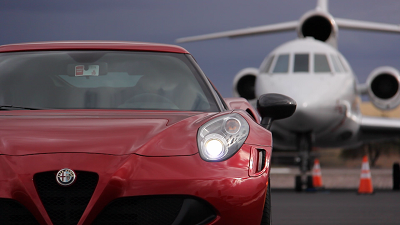 This Alfa Romeo 4C coupe gets a lot of attention. Men, women and even children were cat-calling the car.  This car screams power and sex appeal and you will be drawn to it. Valet attendants drooled as we drove past and were disappointed after we self-parked nearby. We caught one attendant snapping pictures of himself with the car. This car is a celebrity in its own right.

The 4C has performance that outclasses its competition and will push you back in your seat with 0 to 60 times of just 4.1 seconds and 0.95G cornering.  Faster than the similarly prices Lotus Elise S. The mid-engine, rear wheel drive 4C includes Alfa Romeo's advanced technology 237 horsepower turbocharged engine and comes with Apha's D.N.A. system to customize your driving experience.
We'd like to thank Alfa Romeo and Fiat of Scottsdale for providing the car for our review.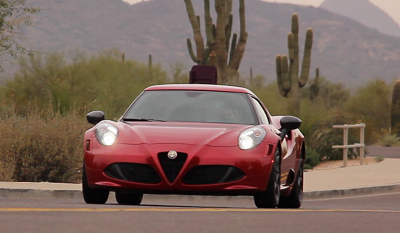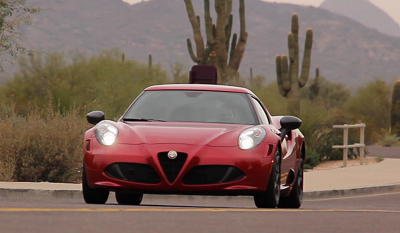 Other advanced racing technologies include the twin clutch transmission with automatic or manual mode and Launch Control to maximize acceleration by automatically controlling the transmission, traction and power allowing you to get the same performance as the professional race drivers.
Alfa Romeo left the US market about 25 years ago but has made a huge comeback with its new 4C designed especially for the enthusiast. This car is distinctive and boldly steps out among cars that are increasingly starting to look like each other. The Alfa Romeo 4C shown here is a limited edition model of which only 500 were sold in North America …and has already become a collector's item.
If you are looking for a car that makes a bold statement and one that will get you noticed then the Alfa Romeo 4C is just what you need. The sleek body style and distinctive racing exhaust make it impossible not to be seen and heard.