SmartFem takes this new 2015 Dodge Dart out for a weekend auto review and learns there is no need to make sacrifices when shopping for an economic new car.
The new 2015 Dodge Dart offers a bold design and high tech gadgetry for the discerning yet economical driver.  With distinctive American styling and bold new colors the 2015 Dodge Dart has come a long way from the original 1960 model. Orange as the new black makes a bold statement for such an affordable and economic new car that stands out in a crowd of entry level compacts.
Our 2015 Dodge Dart GT model driven here features a 2.4 liter, 16 valve, 184 horsepower engine and six speed automatic transmission providing quick acceleration while offering an advertised fuel economy of 23mpg city and 33 highway which was in line with our results.  The Dodge Dart Aero model with the 160 horsepower 1.4 liter turbocharged engine advertises fuel economy at up to 41mpg highway while still offering that brisk acceleration when needed.
We drove the "Vitamin C" Orange 2015 Dodge Dart around Cave Creek, Scottsdale and Phoenix and managed to attract attention from onlookers. The bold orange stood out and demanded notice. The fun part of auto reviews is when you get noticed and sometimes it's hard to return the car after test driving it. We'd like to thank Airpark Dodge Chrysler Jeep for providing the car to review.
The GT also features a sport tuned suspension and a handsomely accented sport interior for the entry level driving enthusiast on a budget. The distinctive Dodge "racetrack" tail lights echo style from the Dodge Charger muscle cars and provide a sporty and distinctively American look. The power steering is tuned to provide agile handling along curves with a natural centering for stable and comfortable highway driving.
The 2015 Dodge Dart offers a fully customizable digital display panel for the tech loving driver. You have a choice of switching out from analog to digital speedometers.  The fuel economy indicator is enhanced with visual graphic images and the information can be controlled from your fingertips without leaving the steering wheel.
Related: SmartFem reviews the 2015 Jeep Renegade for a new Generation of Jeep Lovers!
For those who hate making sacrifices, look for advanced optional features such as remote start, keyless entry, dual automatic climate control, heated seats, leather wrapped heated steering wheel and 8.4 inch touchscreen navigation. The 2015 Dodge Dart has features typically found only in high end luxury cars.  The optional SiriusXM satellite radio features an included five year subscription and real time traffic and highway updates with voice command.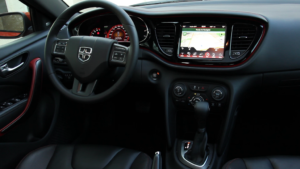 The interior is roomy with a large pass through trunk. The Dodge Dart offers a bit more interior passenger space than any of its major competitors including the Focus, Mazda3, Civic and Jetta. At first glance we initially thought it was the same size as the roomier Chrysler 200 model.
Listed retail prices start at $16,495 for the SE model but dealer incentives and promotions often allow you to pick up a new 2015 Dodge Dart for even less. The savings can make choosing the roomier and sporty Dart over the competition even easier.
Orange is indeed the new black for entry level car buyers. We enjoyed the 2015 Dodge Dart GT and feel it provides an excellent option for people in the market for a low cost economical new car who hate making sacrifices.