Buying and Selling Secondhand Online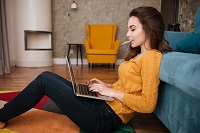 The internet is such a vast place and has so much to offer online shoppers. From Amazon to Nordstrom's website, you can buy literally anything. Buying clothing online is one thing, but what if you are trying to shop secondhand? How can you fuel the hunger for getting packages in the mail, while still trying to do your part to reduce fashion waste?
There are many online resale shops where you can send in your clothes and they will evaluate them, and you will get credit to shop on their site. There are also dozens of apps where you can post and ship your clothes out.
Here are three popular websites and apps you can use to sell your gently used clothes or buy secondhand:
TheRealReal– This has to be my personal favorite site for online shopping. After resolving to exclusively buy my clothes secondhand, it has been a blessing. Pick from any designer, and you will find discounted items. Dresses, accessories, shoes, and home décor are all over this site. Think of it like a Last Chance, but with Gucci, Kate Spade, Yeezy, and nothing for the original price! They will take your gently used designer wear and credit you for their site. This is a great way to indulge in designer without feeling like a huge part of the problem.
Poshmark– Poshmark has been around for a while, and if you are a serial shopper, it is likely you have heard of it. This app allows you to post photos of your items and then speak directly to interested buyers. People can "like" your item and save it for later. You ship the item out and are paid through Poshmark.
Depop– Depop is a bit on the indie side of resale fashion on the internet. It markets itself as a place to buy "unique" items that "have meaning." A large part of indie fashion and resale fashion in general is to find one of a kind pieces. Depop was made for that. While this is a resale shop/app, there is a bit of price gauging on certain rare items. If you have the patience though, there are some true treasures on the site.