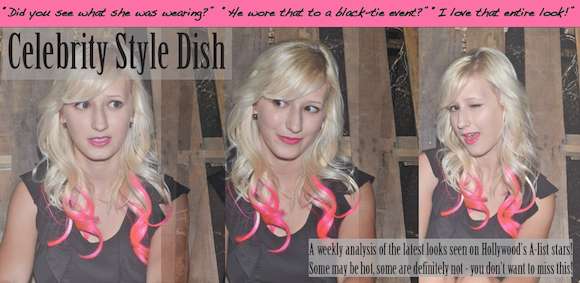 Celebrity Style Dish is a new SmartFem.com weekly series that will feature some stylish and some that aren't so stylish looks seen on celebrities throughout the week.
I have dished on the looks of Emma Watson and Keith Urban, Christina Ricci and Ryan Lochte but this week I was inspired by the 64th Primetime Emmy Awards – where  the stars came out and showed off their scrumptious style! When I was watching the Emmys last night two ladies who star in Modern Family caught my eye, and I couldn't look away from their charming ensembles.
Sofia Vergara
All the talk Sunday evening during the Emmys seemed to be solely around Sofia Vergara's glamorous look! She looked utterly stunning in her floor-length mermaid-esque gown. I loved the effect of it being completely jeweled, each time she turned she shimmered in the sun.
Her sultry curves were perfectly accentuated by the silhouette of the gown. The teal color looked flawless with her skin tone as well. I loved how her hair was loosely curled – this kept the seamless look comfortable while her lavish jewels dressed it up.
The Modern Family star's entire look reminded me of an alluring mermaid who stepped out of the ocean, from the stunning curves of the dress and the cut-out neckline to her relaxed hairstyle – pure perfection!
Photo Credit: Emmys.com
Ariel Winter
When you look at the photo next to you who do you see? A stunning young lady with a classy style and gorgeous hair, right? Well, yes – but this lovely lady happens to be Ariel Winter, who plays Alex Dunphy on Modern Family. Ariel Winter just looks adorable to me! I love how she didn't let her age restrict her style in any way.
The gown she chose for the Emmys featured an asymmetrical hemline that showed off her gorgeously bronzed legs. The neckline has a sleek cut wrapping around her neck, but also had thin cuts that reveal her shoulders. The higher waistline added height to her petite figure, along with her metallic heels. My favorite part of her entire look was that she chose to skip jewelry – this absence kept the look mature and clean – perfect for her elegant attitude!
Photo Credit: Emmys.com