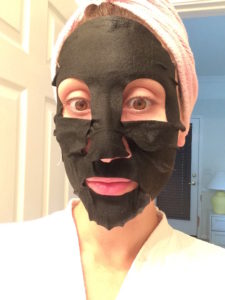 This product was purchased by the reviewer. This review is not paid for, and is not an endorsement for the product.
Sheet face masks are all the rage, and celebs from Chrissy Teigen to Kim Kardashian are sporting pics of themselves using this new facial method.
Geared to address a slew of issues, sheet masks are meant to provide hydration while detoxifying the delicate facial skin.
Originating from South Korea, sheet masks became popular in the U.S. after celebrities donned them on their social media accounts like Instagram and Snapchat.
Literally a thin sheet, each mask has cutouts for your eyes, nose and mouth to wear comfortably.
They are soaked in serums that target specific issues and are usually applied for about 10 minutes once a week.
But you don't have to have a celebrity budget to indulge in this great skincare product.
Stores like Ulta and Sephora all carry inexpensive sheet masks that help with everything from hydration to clarifying.
And one great brand has just released their own line of sheet masks.
Yes To, a natural skincare line, has these fun masks that detoxify, hydrate and soothe the skin.
The Yes To Cucumber sheet mask has soothing properties like aloe vera to help calm and moisturize the skin while cucumbers provide vitamins and help fight inflammation.
This sheet mask is highly recommended for those who have sensitive skin.
The Yes To Coconuts sheet mask is for ultra hydration. Coconut oil is fantastic for extra dry skin and that fresh-off-the-beach glow.
This is a great way to give your skin a boost of moisture during the winter months.
The Yes To Tomatoes sheet mask with charcoal is a detoxifying mask to help clean out the pores.
With activated charcoal as a main ingredient, it helps extract impurities while tomatoes act as an anti inflammatory and combat oily skin.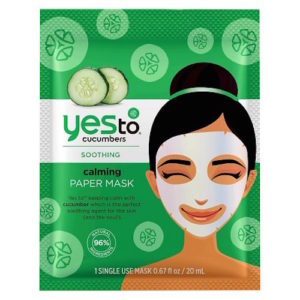 Each mask is a one size fits all, and is suppose to sit on the face for roughly 10 minutes.
Remove the mask and massage the serums into the skin for a few minutes before rinsing off and patting your face dry.
Enjoy your fresh face!
Yes To sheet masks can be found at Target for $2.99 a mask.