In my opinion, there is no better way to start or finish a day than with a touch of sweetness. Sugary deliciousness should never be out of the question, as far as I am concerned! Waffle Love AZ manages to satisfy my sweet tooth, whatever the time!
Waffle Love AZ has a storefront location in Gilbert. That may be a slight commute for you, but the food will be worth it. You can always keep an eye out for the Waffle Love truck; the food truck travels to the East and West valleys, as well as throughout Phoenix and Scottsdale. Information on where the truck will be and when is available on the Waffle Love AZ Facebook page at the start of each week, as it does vary weekly.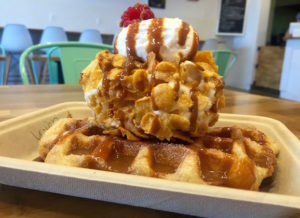 Waffle Love AZ has a menu containing a variety of different waffles, some covered in berries, some in lemon curd, others in homemade whipped cream, cinnamon bun glaze, nutella or even ice cream. Whatever it is that your sweet tooth craves, I am sure there is a waffle that will make you weak at the knees.
If you're looking to treat yourself with something truly indulgent, order the "Cinna-Bliss" waffle. This cinnamon sugar dusted waffle is topped with a scoop of vanilla ice cream that has been rolled in corn flakes, finished with a dollop of house made whipped cream and drizzled with caramel. It's perfect for a mid-day pick me up or even after dinner dessert. Personally, it's my favorite way to start the day (who doesn't love ice cream for breakfast?!) In addition, Waffle Love's menu also includes a build your own waffle option and their house blend "Mama's hot coffee," which is the perfect accompaniment to any of the waffles.
Waffle Love AZ took a plain, typical breakfast item and has turned it into a creative and different treat, perfect for any time of day. It is a simple concept that has been flawlessly executed!
Give it a try and fall in (Waffle) love!