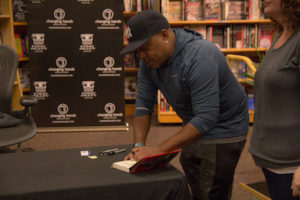 "Shark Tank" star Daymond John is creating quite a stir with his new book, "The Power of Broke."
I recently attended his Phoenix book tour stop at Changing Hands book store in Tempe. It was standing room only and John definitely energized the fans.
He wowed the crowd with his personal story of struggle in Queens, New York, and the challenges he faced while creating his famous international clothing brand, FUBU.
John's journey started with a $40 budget and a lot of creativity when he was launching FUBU, now a $6 billion dollar company.
He credits being broke when starting out fueled his drive to succeed, forcing him to think of innovative ways to market his brand.
The diversity of the crowd he drew made me wish he was running for office. It was refreshing to see someone with a positive message inspire so many enthusiastic people.
There were millennials, executives, entrepreneurs, soccer moms and people of every ethnicity coming together to hear his message of hope, and how having passion for what you do translates through your work.
"I'm very excited about the book," Chris Scott, software engineer at PayPal, said.
And those who have worked with John came to show support and give praise.
Kevin Wright, CEO of Right Launch, works with John on several "Shark Tank" projects. Wright said the projects are always interesting and fun.
"I'm excited about the opportunity to meet Daymond," Brian Kaplan, founder and CEO of CoCo21, said.
I have always been a fan of the television show "Shark Tank" and of John, but it was a recent C-Suite interview Jeffrey Hayzlett
had with John that inspired me to learn more about TV's famous shark.
As John puts it, you have to have a "rise and grind" mentality when you've found something you are passionate about.
John has a natural ability to inspire people and encourage them to work hard and believe in themselves. It's easy to see why John is the people's shark and is the smart, gracious person we have all grown to love on "Shark Tank."
I highly recommend "The Power of Broke." It's the perfect read for small business owners and entrepreneurs, or anyone looking for some inspiration and words of wisdom.