Lipstick wearers rejoice!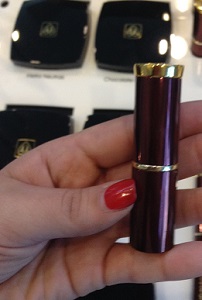 There is now a affordable, natural, vegan product you can wear on your lips! Instead of spending big bucks on the latest overpriced designers, you can support a local animal friendly company that produces excellent skincare and makeup. DeVita Natural Skincare and Cosmetics has created some of the best quality lipsticks in the game, especially in the Arizona market.
An avid fan of having matte color on my lips, I decided to try two of their most popular shades, Sanguine Angel and Twilight Plum. Now I had never used naturally made or vegan products before my experience with DeVita, and I will say I am never going back! Instead of making my lips harden and peel as if there were paint on them, Sanguine Angel acted as both a beautiful red raspberry tint as well as a moisturizing lip product.
Twilight Plum is the perfect evening color for a date night with a black dress. It shines, but is not sticky like a gloss. For the Arizona weather this lipstick collection is perfect. Rather than melting off during the summer months, it stayed put on my lips throughout the whole day without smearing or smudging. The best part? It didn't stick to my lips and leave that annoying residual color that ends up on everything from my toothbrush to my pillowcase.
I used to use drugstore quality lip color, but after trying DeVita, the difference becomes so much clearer. Using natural/vegan products is not analogous to using fat free ranch dressing or diet soda, the flavor with DeVita is all there! The quality of the product, the price and the crisp, lovely color make these paraben-free pretties a conscious change you can make that has virtually no downside.