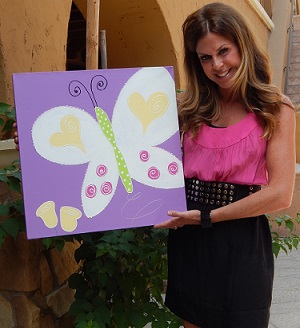 When I first met Kati Walker, I was greeted by her friendly smile. Right away I knew she was a woman inspired with enthusiasm. What I did not know is that she was an artist. Katie Walker paints adorable child-friendly pictures that are perfect for bedrooms, playrooms, or just about anywhere your child likes to be. From ladybugs to ballerinas Walker's artwork has a childlike whimsy that puts a smile on everyone's face no matter what age they are.
Walker uses puffy paint and other texture based materials on her paintings. She explained that she uses materials other than just regular paint because it encourages children to touch her paintings. Walker takes on a "Look and please touch" attitude with her art. She wants kids to explore artwork and satisfy their curiosity by using all of their senses, something most artists would be appalled at.
The importance of art is something Walker is passionate about. She is as excited about her artwork as the children who she paints for. Walker believes in the philosophy that art is not just meant to be looked at, but it is meant to be experienced.
Her artwork is not simply for her own pleasure though. With the help of SmartFem, Walker will be donating her artwork to many different organizations in Arizona where children can look at them, touch them, and discover art in a way they never have before. United Cerebral Palsy, UMOM, and Starshine Academy will receive select works by Walker to display in places where their children can view and experience her art.