While it may seem like an odd pairing to combine what is basically an upscale carwash/bistro/market with an Ice Rink, it's just a way to combine two super-cool (literally) experiences. Location is the key here, with these adjacent facilities offering the best of both worlds to fill up a morning or afternoon with action and food, and you can get your car washed in the bargain! In short, it's every busy grandparent's dream, as it doesn't include driving from one end of Phoenix to the other!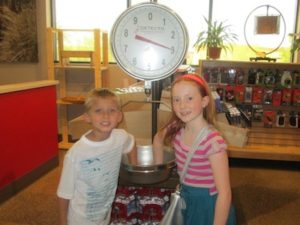 Tom's Thumb Fresh Market, I feel safe in saying, is the only Carwash/Coffee Bar/ Bistro/ Market in the country that was voted one of the Best New Restaurants in the surrounding area when it opened in 2012! Fuel for the car, fuel for the occupants, starting with The Coffee Bar that opens at 6am. If you require more sustenance, the aforementioned Campfire Bistro opens at 7am and serves Breakfast, Lunch and Dinner until 9pm Monday through Sat, and from 7am till 8pm on Sundays. Don't go unless you are ready to eat, as the menu is full of delectable fare, most notably their hardwood smoked BBQ. There are plenty of choices for the kiddos as well, so your pickiest eaters will find the classics that they love. Personally, I think you just have to admire a restaurant that realizes there are two distinct schools of thought when it comes to coleslaw, so they offer both vinegar or mayo style! Plenty of sweet treats are available, naturally. Our kids were fascinated with the Market, which offers a veritable smorgasbord of produce, gifts, and specialties supplied by local vendors.
Our suggestion is that you plan to visit Tom's Thumb either for breakfast and a car wash (ranging from a tunnel wash to premium hand washes & detailing), then move on to the Ice Den for skating on weekdays at 11:15am; or perhaps skate first, then visit Tom's Thumb for a late lunch with your exhausted skaters! You can't go wrong either way…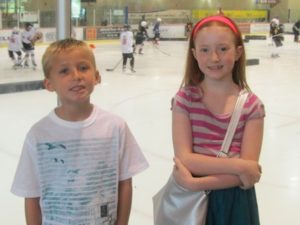 We brought our two oldest grandchildren with us and they loved it! While we didn't have adequate time for skating that day, we were able to tour the Ice Den and watch skaters of all ability levels on the rinks. Naturally, the Zamboni was a big hit! It is essential to check the Ice Den's website for available skating times. These run for two hours per session. In addition, there are summer camps available if your grandkids are sporty! The fees to skate are very reasonable, about the same as bowling. And who knows, your grandkids may decide that ice skating is their "thing." You can watch in the stands, so make sure that you come dressed for the 53 degree temperatures in there. It's a perfect solution to a July day!
If you go:
Tom's Thumb Fresh Market Ice Den
9393 E Bell Rd. Scottsdale, AZ 85260 9375 E. Bell Rd. Scottsdale, AZ 85260
www.tomsthumbfreshmarket.com
www.coyotesice.com
480.513.8186 480.598.9400