Put a modern twist on 60's mod with the new CHUNKY heel for Spring!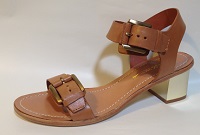 For those wanting comfort, you'll be pleased to know that your ankles can sit comfortably this season on a stacked thick heel that won't make you feel like you are sacrificing for fashion!  We first noticed the trend last Fall during Spring 2013 Fashion Week with a nod toward vintage.  Look for the chunky heel in all styles: high heel pumps, loafers, and strappy sandals.  When it comes to chunky heels, the stacked heel is a popular look, but other options include two-tone, metallic and even cork heels.
What we love about the chunky heel, in addition to the style, is the level of comfort. Since it offers walking ease and ankle support, and with the 1960's inspired look, you'll be at the height of fashion AND comfort.   Think of how mod you'll look if you pair this versatile shoe with a flirty feminine dress . This type of heel coordinates perfectly with nearly anything because of its ready-to-wear colors and patterns.You won't have to worry about wearing a pair of these to work. The chunky heel can be paired with dress slacks, and other professional attire to put a stylish twist on the banal business suit.
The chunky heel is one of the few styles of shoe that one can wear for the entire day. Throughout daytime and evening looks the chunky heel prevails. Consider wearing a chunky heel that is two-toned, a bright yellow patent, or you can always play it safe with a neutral.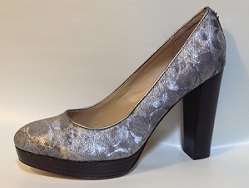 Try trading your usual summer wedges in for a chunky heel.
Whether for work or play, we're quite certain you'll fall in love with the chunky heel, but don't worry—we're not suggesting you dispose of your classically sexy stilettos! This shoe with a retro twist is a great way to update your wardrobe for 2013.