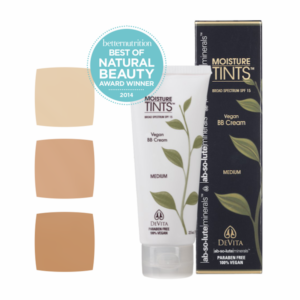 It's no secret; I love DeVita products! I have been fortunate enough to review her deluxe travel kit and I absolutely loved it. In fact, my mom recently purchased DeVita's skincare line for mature skin after hearing my reviews, and for Christmas gifted her sister with the deluxe travel kit.
And if I wasn't already fortunate enough to try her skincare, DeVita sampled me with her luscious Moisture Tints, a velvety tinted moisturizer that has become my new favorite.
I have on days and off days. I have labeled them such because this refers to the days when I am on camera and off. My on camera days require me to wear heavy foundations so I don't appear washed out from the bright studio lights. So naturally when it's an off day I want to give my skin a chance to breathe, and a break from the heavy studio makeup.
Welcome DeVita's Moisture Tints, my new off day makeup. I've always been a huge fan of tinted moisturizer. Having naturally dry skin, I gravitate anything that will hydrate my skin that extra mile. And boy does this moisturizer do just that.
Loaded with natural products like coconut oil, green tea, vitamin E and pomegranate extract, this product has a whipped-like texture out of the bottle. I immediately noticed the soft texture compliments of the coconut oil which I am just slightly obsessed with.
Upon application I noticed how unlike another tinted moisturizer I have used, this one does not streak heavily. Instead, it goes on much like a traditional foundation would, and to my surprise, had amazing coverage.
I will say I am fortunate enough to not struggle with acne-prone skin, but I do have an occasional pimple every once in a while. Because of this I don't require a foundation that has heavy coverage, but I can say this tinted moisturizer did cover the few pimples I had. I did cancel out redness with a concealer, but I usually do that even when using a foundation. I do, however, have sensitive skin and this makeup never irritated my face or eyes.
Once I applied the makeup I used my blending sponge to even it out and make sure my neck was blended. I was amazed at how even my skin looked, and I loved the healthy glow the moisturizer gave my skin. It looked flawless.
The best part about DeVita's Moisture Tints is that it feels weightless. You forget you're wearing it and it lasts all day. And more importantly it contains sun screen which is always a must.
Overall, this DeVita product receives another four stars from this happy user.