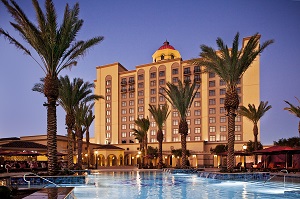 I recently had the pleasure of visiting Casino del Sol Resort–  recently awarded the prestigious Forbes Four Star Travel Guide Award. Already rated by AAA as a Four-Diamond destination, Casino Del Sol Resort can now boast the prestigious Forbes rating which is given to well-appointed hotels, restaurants and spas that deliver enhanced service, distinct value and a strong sense of place. Tucked in the southwest metropolitan Tucson area, Casino del Sol offers fun and recreation for the entire family along with fine dining, concerts, spa services and of course gaming.
My journey began early in the day as we left Phoenix at 6 a.m., arriving a short two hours later at the resort.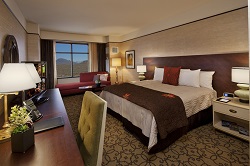 Greeted by friendly faces at the check in, and luckily allowed to check-in early (usual check-in time is the afternoon), was an unexpected treat! After settling in to a beautiful room, I decided to check out the gym – after sitting for so long, I felt like a bit of a workout.
The Hiapsi Fitness Center is located right next to the Spa and has a nice selection of weights and workout machines. The view of the pool and future golf course (opening this fall) is beautiful. After few miles on the treadmill, it was time for some pampering. The full-service Hiapsi Spa is inspired by Native American wellness treatments coupled with indigenous elements of the Sonoran Desert and I was told, is known for its outstanding service and relaxing atmosphere. My nails were begging for a mani/pedi and it was now time to put a bit of sparkle back. The Spa's soft music and earth tone colors were a perfect match to the relaxed calm atmosphere. The manicurist pampered and massaged my hands and feet and took her time. The many choices of colors were excellent and, as a unique touch, I was given the bottle of nail polish to take home with me.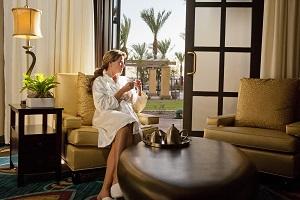 My dining experiences at Casino del Sol Resort were also lovely experiences. Lunch was served in the newly opened Conference Center – a space that can be used for meetings, weddings, and special events.  Lunch included selections from a pasta bar, salad bar, and fabulous beef tenderloin. The waiters and waitresses were friendly, knowledgeable and provided excellent service.
Dinner was a special treat as we were celebrating the Big 4-0!  As the birthday boy is a world traveler, the lure of sushi and Asian cuisine was not to be missed. It was a hard decision to choose An del Sol, as there are five great dining choices, including the award winning PY Steakhouse. We stuffed ourselves on many delectable dishes, cocktails, and even had the waitress take a picture of us enjoying our meal – See below: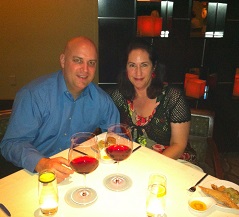 Of course after dinner we decided to try our luck in the casino – a hard decision whether to play the slots, blackjack, poker, and bingo. As the bingo parlor was packed, we gravitated towards the slots and guess what?
We hit the jackpot – winning over $100! It was a truly spectacular way to end a beautiful weekday get away.  Forbes Travel Guide represents the best in class in luxury hospitality and Casino del Sol Resort is certainly an exceptional experience that I highly recommend.
For more information, please contact:  http://www.casinodelsol.com/