Amid the hustle and bustle of North Scottsdale's Scottsdale Quarter, Sol Cocina provides an escape to Mexico! This rustic-chic space serves up Baja-style Mexican food for brunch, lunch, dinner and drinks seven days a week.
Rod iron light fixtures, painted brick walls and an exposed kitchen with a copper plated exhaust hood adds to the themed atmosphere. This warm and inviting space has plenty of room for guests, with high top seating available, a full indoor / outdoor bar, a dining room area and patio.
No matter where you decide to sit, the food is equally as spectacular. To begin your meal, house made salsas and mole are served with corn tostadas (guacamole is available to order for an additional charge). The "Antojitos"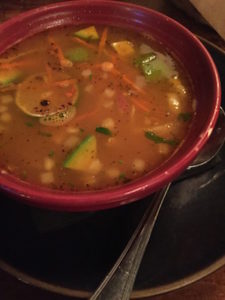 section of the menu consists of appetizer style small plates and houses everything from grilled sweet corn and coconut calamari to the deliciously robust, tortilla soup with chicken. This soup is a must; it's the perfect introduction to any entrée you choose.
There are many entrée items on the menu, but Sol is known for their "Specialty Taco" selection; 14 outside the box tacos containing everything from deep-fried duck leg confit to a vegetarian sweet potato and black bean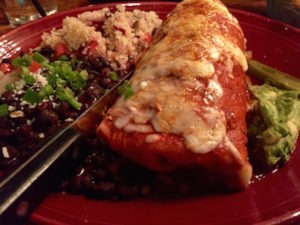 combination. If these innovative tacos don't capture your attention, Sol also offers a variety of more classic street tacos, in addition to grilled burritos, enchiladas, salads, short ribs, and steaks.
Sol also offers an extensive drink menu complete with handcrafted cocktails, beer and wine. Oh, and let me not forget to mention their 72 tequila options. The choices don't stop there though! Sol Cocina wants to ensure that every guest's meal ends on a sweet note! Their dessert menu has a variety of treats, whether it's pudding, cake or brûlée you crave, there is an item that will hit the spot.
So, the next time you find yourself craving some salsa and a margarita (and a flight to Baja is out of the question) head into Sol Cocina and see what's cooking!