Lea Haben and Surreal Sister Photography spend an afternoon with author Holly Mosier on her new award winning book, "Stress Less, Weigh Less."
Have you ever noticed that most of the so-called fitness guru's and trainers are under 30 and haven't had to deal with weight gain from child birth, much less middle age? Enter Holly Mosier who is drop dead gorgeous and a year older than me.  I was pleasantly surprised at her simple and common sense approach to a healthy lifestyle.  Many people today, myself included, are plagued with fatigue and exhaustion brought on by elevated levels of stress which can makes us gain weight.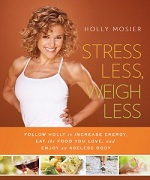 Her book, "Stress Less, Weigh Less," was a fun and informative read and made me believe that I too can achieve her success.  Her book, blog and 10 minute yoga video are very inspiring.  I like that the recipes in the book are real stuff that we all love to eat with only small modifications.  All of the photos in her book are genuine and there is no computer touch up techniques or airbrushing.  I am not one who would ever respond to someone who trains like a drill sergeant.  I need to see someone of like age who can break it down for me in bite size pieces.  I was so impressed with the book that I set out to meet with Holly Mosier.
I had the opportunity to spend about three hours with Holly and her husband Robert and it went by so fast.  Holly is down to earth and her skin and eyes show that she truly embodies a healthy lifestyle.  She is a beautiful intelligent woman who wants to help others live a better life.
Holly made a decision to enjoy a healthier happier lifestyle and proved that it is obtainable. Her book includes photos of her before and after and is focused on achieving better health through reduced stress by perfectly balancing the mind with the body.  I can only imagine how stressful being a malpractice attorney like Holly can be.  I loved that she shares my own beliefs that there is no simple pill and instant gratification.  It just doesn't work that way. We talked about stress and how she deals with it and how you can too.  I love her "OPT Out," approach to life.  It's easy to add to many things to your schedule and calendar which can kick in the old stress hormones.  I can't tell you how often I've loaded up my calendar only to feel panic and mayhem set in not knowing how it will all get done.
Holly is a lawyer, business owner, mother, yoga teacher, personal development expert and a wife.  It seems to me she must know a little something about managing priorities.
Want to have more energy, look younger and enjoy life more?  Then read Holly's book.  I can assure you her recipes are better and easier to follow than just about any diet book you will ever read.  I would also like to mention that Holly just received the prestigious Eric Hoffer award in the Self Help category.  I very much look forward to spending more time with Holly and working on some future projects with her.
I would like to thank Surreal Sister Photography for their amazing photos.  Please see more of their work on their Facebook page
For more photos of Lea's visit with Holly and Robert please visit our Facebook page.