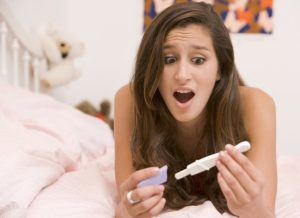 Yes! Your iPhone will now be able to tell you if you're pregnant. No! This doesn't mean you have to pee on your phone.
First Response has recently released their Pregnancy PRO Digital Pregnancy Test at the Consumer Electronics Show. I think it goes without saying, but this isn't your typical pregnancy test. Picture it. You find yourself having to go through the process of peeing on that lovely little stick. You want to make sure you get the best results as soon as possible and in the most convenient way, right?
This NEW pregnancy stick syncs with a smartphone app via Bluetooth! All you have to do is pee on the stick and the app will recognize this sample. Once it's detected, the countdown begins. Those 3 minutes can quickly feel like 3 of the longest days you have ever lived. But, since the results will appear on your phone you can make your way out of your bathroom and into a more relaxing space. Maybe you run up and down your steps, drive around the block, blast music from your iPhone OR use the options on the app to keep your mind preoccupied. "Calm Me," "Educate Me," or "Entertain Me" are the choices this app gives you while you wait for the good or possibly bad news. Perfect! Well as perfect as this situation can be.
After the time is up, your phone will show your results; only when you enter your security code. Once you have your results the app offers you advice and information in regards to both if you were and weren't expecting the news you received. Feel free to save your results and also track your fertility using this app. It does everything!
I don't know about you but this seems like the new BEST way to go through one of the most anxious times of your life.