I don't know about everyone else, but when the weather is hot I just don't have a hearty appetite.
I crave smoothies, salads and just about anything that is cool, because when it's 110 degrees outside heavy meals don't sound appealing to me.
Here are a few of my go-to recipes for when summer days call for something cool and refreshing.
Watermelon Mint Smoothie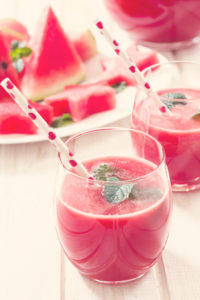 4 cups cut watermelon (frozen)

3 limes, juiced

10 mint leaves

1 cup coconut water
Blend all the ingredients together in a blender until it's to the consistency you like. Using frozen watermelon makes the drink more like a slushy. This refreshing drink is not only yummy, but hydrating as well.
Stuffed Avocado Quinoa Salad
Avocado cut in half

Cooked quinoa

Sliced cherry tomatoes

Balsamic and olive oil

Feta cheese
Cut the avocado in half and remove the pit. Cook the quinoa and drain well. Place a heaping scoop of quinoa on the avocado and garnish with cherry tomatoes. Sprinkle feta cheese on top of the quinoa and drizzle with balsamic and olive oil. Finish with a dash of salt and pepper.
Chicken Greek Wrap
Shredded chicken breast

Romaine lettuce

Roma tomatoes

Kalamata olives

Traditional hummus

Feta cheese

Cucumber

Balsamic and olive oil

Sandwich wraps
Cook the chicken breast and shred. Place in refrigerator to cool. Dice up a roma tomato and cucumber and place into a bowl. Drizzle balsamic and olive oil over the tomatoes and cucumbers and dash with salt and pepper. Allow to sit in the refrigerator. Smooth the hummus onto the wrap and place the shredded lettuce on the hummus, followed by the shredded chicken and cucumber and tomato salad. Top off the wrap with kalamata olives and feta cheese. Drizzle more of the cucumber and tomato salad dressing onto the wrap if desired.
All three of these recipes are quick, easy and healthy. What I love about them is they are light and delicious when the weather is scorching hot. Enjoy!