Congratulations!
Smartfem.com is proud to present the very first recipient of our Woman of the Month Award:
Pam Gaber, CEO of Gabriel's Angels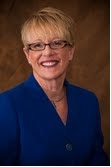 We all have a mission in life.  Some find it by self discovery; others find it when they least expect it.  Pam Gaber found her mission when she was 42 years old.  In 2000, Pam decided to leave behind  her high paced corporate lifestyle.  Six months later she adopted "the cutest Weimaraner in Arizona" named Gabriel.  Pam was a volunteer at the Crisis Nursery of Phoenix when she decided to dress up Gabriel as a reindeer and bring him to the Nursery's Christmas party.  Her mission that day was just to make the children smile. What she saw changed her life.  Children, who displayed aggressive behavior, became gentle.  Children who were too frightened to interact, opened up.  Watching the children learn about compassion from an animal, while receiving unconditional love, inspired Pam to create the nonprofit Gabriel's Angels.  She had found her life's mission. Through Gabriel's Angels, Pam has been able to introduce therapy animals into the lives of abused, neglected, and at-risk children by visiting crisis nurseries, domestic abuse shelters, homeless shelters and group therapy homes.  The children not only learn to interact and care for an animal, they learn to trust and to develop a relationship.  These memories and lessons will stay with them the rest of their lives. 
The goal of the organization is to "increase the overall sense of well-being and happiness for children in a safe environment, and to build critical behaviors, such as trust, empathy, respect, tolerance and self-esteem."  This outreach is a way for children to heal, with the hope of ending the cycle of violence. In its first year, Gabriel's Angels reached out to 1500 children.  Today, they work with 13,000 children and have expanded to Southern Arizona and Prescott.  There are 150 Volunteer Therapy Teams, 40 Helping Hands working with over 100 agencies. Pam once said, "It's better to be kind than great."  She has proven to be both.  For this reason, she is May's SmartFem Woman of the Month.