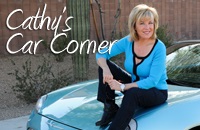 Three Women's Journey with the Ford F-150
originally published on twofortheroadusa.com
I
've often said, I love the automotive business!  When I say this, I get some strange looks from dinner guests or female friends at birthday parties; but it's true.  The predominantly male industry is finding out what women have known all along, we can do anything from engineering today's vehicles to selling them, paying for them and driving them wherever we want.
When I found out that a woman from Gilbert, Arizona, sold more Ford vehicles than anyone in the region, I wanted to know why, who, and what the ?  It seemed amazing that a female salesperson sold 177 Ford vehicles and 70% were trucks.
The woman I'm talking about is Laurie McClellan, a sales associate at Earnhardt Ford and the top Ford salesperson of the year in the Phoenix region.  Laurie made it clear to me that her title on her business card reads "Facilitator of Vehicle Purchases," not sales associate. She feels very strongly that she doesn't sell cars; she facilitates a customer's auto buying choice.
Then there is Jackie DiMarco, the Chief Engineer for the Ford F-150. How did that happen? Jackie takes her title and accomplishments in stride.  This mother of twin girls and wife to fellow engineer on the Ford Racing team thought nothing of venturing into the world of automotive engineering… and trucks no less.  Jackie is only 41 years old, grounded, bright and the epitome of the girl next door.
When I asked her if being attractive in the auto industry was a blessing or a curse, she laughed out loud and said, "I never thought about it, no one has ever asked me that!"  She added that sometimes it helps to be a woman among strong men, and that she's never run into any problems regarding her gender working as an engineer in the automotive industry.
She said early in her career she was guided by a male manager who told her that he's seen many young women shepherded into program management type rolls early in their careers, probably because women get thought of as good coordinators and communicators, which are less technical roles. Jackie took that to heart, and realized she might have taken that route as well.  Today, she's grateful for taking a position in power train development with Ford, which was way out of her comfort zone at the time.
The new slogan for Ford trucks is "We Own Work"… This doesn't mean the truck is just for work where men traditionally fill their cargo bed with wood, glass, gravel, kitchen countertops, plywood or landscaping materials, it could mean workaholics like so many women.
Take for instance Nan Hummel, a bail bondswoman who purchased her F-150 truck with her own money from Laurie McClellan for use in her line of work.  Nan needs a truck to do her job.  I asked why an F-150?  Hummel said, "I come from a family of Ford owners and actually some Ford employees. I've driven one for years, but now I bought one with my own money for my business and I love it.  Nan works out of her truck quite a bit and gives it quite a workout. The cargo area hauls collateral and the backseat holds handcuffed passengers.  I'm not sure that visual will be used in the next Ford F-150 commercial, but I think it's great.
The ladies of Ford F-150 have quite a bit in common, besides the F-150. There was a statement made by all of them…" getting out of my comfort zone."  DiMarco said it when it came to going for the more technical and challenging job in automotive; McClellan did when she described to me about dropping out of school in the 10th grade to pursue various sales positions where she worked very hard and always came out on top. She admits that at 16, everything was out of her comfort zone, but she needed to make a living.  And Nan, our bounty hunter, worked in law enforcement all her life with a degree in criminal justice… yet she too took a leap of faith when she decided to start her own agency at 47, complete with handcuffs and Tasers.
All three ladies agree that there's something about a truck that is empowering whether you are the chief engineer of the F-150, top facilitator of auto buying or a small business owner.  How interesting it was to hear each woman's take on what was important.
DiMarco reflected gratefully on her female mentors at Ford and wants to be a role model for her daughters and other women in auto. Both her and her husband make sure that they expose their girls to the sciences as well as cooking, travel and math, they're unlimited in what they can do, says Jackie.
All three women have aligned themselves with one of Ford's best tag lines "Built Ford Tough."  Jackie survived breast cancer, which was diagnosed while working on a "Warriors in Pink" package for Mustang.  Laurie waited till age 45 to have a child, all she ever wanted to be growing up was a mother.  Two weeks prior to embracing their baby boy, her husband was laid off.  Jackie went to work at Earnhardt Ford in Chandler immediately while her husband stayed home to take care of their son. Ford tough?  Our bail bondswoman, who worked as a probation officer most of her career, said she spent her years keeping folks behind bars and now she helps get them out.  This includes taking lots of risks, counseling the family members and wondering day to day if she will have to switch from bail bondswoman to bounty hunter … Ford Tough!
Laurie says she loves her job and makes a good living selling Fords. I wondered how her approach is different from her male counterparts.  She said that she is a good listener, she is detail oriented, cares deeply about each customer and knows more about Ford products than anyone else on the floor.  Most of her customers are repeat customers, and so many are men.  They tell her she is a breath of fresh air and even if they've never bought from a woman before, they were so pleased with their experience, they keep coming back.  Her customer service Index is off the charts and she wastes no time chit chatting, she is always learning more about the products and assisting customers.
Nan had a lot to say about her F-150 fitting her needs.  First of all, it's her office on wheels, it fits in her garage and the hands-free zone of the truck is exactly what she needs when transporting her clients.  They are handcuffed and sitting pretty in the back seat of her truck. The cargo area is plenty big enough for transporting the goods and the towing capacity means she can tow more collateral.  Nan had one complaint and that is… she wanted the truck in yellow in order to attract more attention to her "business." She purchased a red truck and has yellow magnetic signs with her business information displayed.  She feels her truck is an extension of her office and her personality with room under the rear seat bench for handcuffs, paperwork and other useful equipment she may need besides her smile.
Now I borrowed an F-150 from a friend to tow a travel trailer this last year and I must say I wanted to sleep in the Ford F-150 King Ranch, rather than the 1968 14-ft trailer.  The posh leather seats, cup holders for lattes, enough USB ports for computers, phones and electric shaver, I was happy right there.
Three women, all different in their journey with the F-150 but similar in their passion for life and their truck relationships. I would be comfortable taking the F-150 on the Red Carpet or to the Red Rocks of Sedona. Women today are not stereotypical; we want what fits our lifestyle, safety needs and our pocketbooks. We want to be taken out of our comfort zone, just ask Jackie, Laurie, Nan or me.
Interesting Statistics

Jan-June 2013 – 30,000 women have purchased Ford F-Series trucks
Women own more than 40% of private businesses
1.3 million women earn more than $100,000 annually
68% of new  car and truck purchase decisions are made by women
Women spend more than $200 billion on new vehicles and repairs in the U.S. each year
Over the course of a family's life, 90% of all married women will control its wealth

*Compiled from statistics from the Harvard Business Journal, Forbes, Ford Motor Company and Nielsen Ratings
For more about the Ford trucks go to  www.ford.com

For more reviews go to www.twofortheroadusa.com