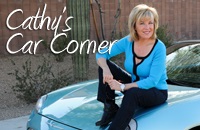 Don't worry; I'm not referencing a topless beach in Capri, Italy, but rather hats off to Fiat, the manufacturer of the 500c Lounge Cabrio for making such an awesome car and to Fiat of Scottsdale for providing me the opportunity to test drive it. You can't resist taking your top down on a super sexy and fun Fiat 500 convertible no matter what time of year.
For me, driving any convertible is a vacation in of itself. I own a 2002 Thunderbird convertible, and every chance I get, I put my top down (on the car) and enjoy the sounds, smells and freedom it evokes.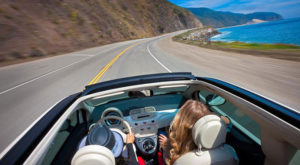 I think convertibles are designed for certain types of car enthusiasts. I also believe that if you've never driven one or been a passenger in one, you have no idea what you're missing. There is something so European and sort of "James Bond-ish" about a convertible car on the open roads or even on the Trader Joe's parking lot. You shouldn't make excuses such as your hair will get messed up (wear a hat), or maybe you are afraid of the sun exposure (wear sunglasses and SPF60) or you can't hear your phone or stereo (pump the volume up). No excuses!
The best part about the FIAT 500c is that you can take the top down in segments. Just push the open and close buttons accordingly and adjust just how much roof exposure you want; it retracts in a backward motion, not up in the air and then back like many convertible designs.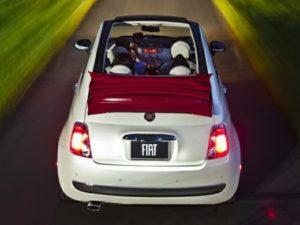 I have to admit, while cruising on the freeway during my trip up North, I struggled a little to keep up with an Italian auto cousin I saw pass me in the blink of an eye, you know the Ferrari 458 Italia? Since my intent was not to race, I just enjoyed the ride; however, when I needed to pass other less powerful and exotic vehicles, it was not a problem. Under the hood the Fiat 500c Lounge contains a 1.4 liter, Multiair 16 valve 4 cylinder engine matched with either a 5-speed manual transmission or the optional 6-speed automatic. There is plenty of get up and go in the 500c for whatever your destination and up to 40 miles per gallon freeway goes a long way.
The Fiat brand speaks for itself, both under the hood and with the exterior design. The bucket seats in my test vehicle Cabrio were comfortable and the backseat fit everything that I normally would pack on a daily basis in a SUV or a large sedan.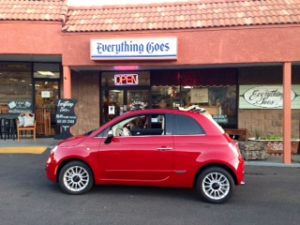 I did one shopping excursion where I needed to use the 50/50 split fold-down-seat and that solved that space issue. The back seat was LATCH ready for the child safety seat, which I install in all my test vehicles.
The color of the Fiat was cool… Rosso Brilliate (Red Tri-Coat) and the interior was Avorio (Ivory) with heated, leather trimmed seats. The soft convertible top was tan, complete with windscreen. The technology is state of the art with Fiat's Blue&Me hands free communication, USB port, AM/FM/CD/MP3 Alpine Premium Audio System with auxiliary audio jack and Sirius XM for one year.
I test drove the "loaded" 500c Lounge Convertible, so the price tag (with all the options) was $26,440, but the basic Cabrio starts at $19,695.
Additional 2013 Fiat 500 c Lounge Cabrio Information

Estimated Gas Mileage –  31 MPG City – 40 MPG Highway (5 speed manual) Wheels:  15-inch Aluminum Wheels All Season Tires Chrome Power Heated Mirrors Chrome Exhaust Tip Tinted Glass Windows Fog Lamps – Tire Service Kit A/C with Auto Temp. Control Driver Seat Memory Warranty:  4-Year /50,000 miles
I've owned six convertibles in my car lifetime and never regretted those choices. What I like about driving the Fiat Cabrio was how easy it is to park, maneuver and adjust the convertible top. I must admit I get a little more attention in the Cabrio than I do in a hard top, closed up and all tinted up sedan. It may not be for everyone, but I recommend you live a little – and take your top down now and then while on the open road.
If you live in the Phoenix area stop by Fiat of Scottsdale at 16301 North 78th Street in Scottsdale to try one for yourself.

For more reviews go to twofortheroadusa.com and here on SmartFem.com