Best Gift Guides From Across The Web
Holiday season is officially here now that Thanksgiving is over and the weekend of Black Friday has concluded. This means it is gift-buying time. If you are like me, you spend all year thinking of awesome gifts, and then the first week of December I realize that everything I wanted to buy my family and friends in the Spring is now discontinued for Fall. This can present a problem in Arizona as the state broke a record high heat of 89 degrees on November 26, 2017.
Socks, sweaters, and cold-weather clothing won't be on anyone's list, and if it is, its use will be short-lived.
Who are the hardest to buy for on your list?
Living with three teenage brothers and an-almost-teenage sister, I find myself struggling to find relevant, trendy gifts that they will actually like and not roll their eyes over. For my hard-to-buy-for siblings, I rely on curated gift-guides across the web. From New York Magazine's The Strategist, to Amazon $10 and under pages, these guides often give me ideas I would have never thought of otherwise.
Here are a few of my favorites from across the internet:
The Strategist 100: The Strategist is one of the most interesting, fun, and useful internet publications for the online shopper. Scouring various blogs, sales, and other outlets for online shopping deals can be tiring and nearly impossible during this time of year. The Strategist curates for you in advance, so you can just click and shop. Check out their gift guides for teens, Cooking Dads, and college kids.
Amazon's $10 and under: Shopping on Amazon is the single most intimidating online experience for me. With thousands (millions?) of products, it is overwhelming to think I can search anything and find it. When gift shopping, I like to keep it simple: one key piece and some little add-ons. This gift guide is a winner for the add-ons or even kitschy pieces for a white elephant or Secret Santa exchange.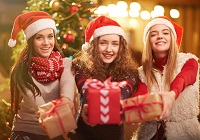 Urban Outfitters Music + Tech guide: My teenage siblings are all different, but the string holding us all together is a love for technology and music. Whether it be a Migos shirt, film for a mini Instax camera, a stylish phone case, etc. this gift guide has it all. Of course, Urban Outfitters is known for being extremely "on-trend," so this is an ideal guide for someone who doesn't know where to start looking for their teen or preteen.
Exploring these sites and the various guides they have to offer will be helpful, and also maybe inspire you to think of your own ideas. Be sure to get your shopping done early this year as well—the winter months fly by when it's 80 degrees.