Moms Fighting For Their Right To Breastfeed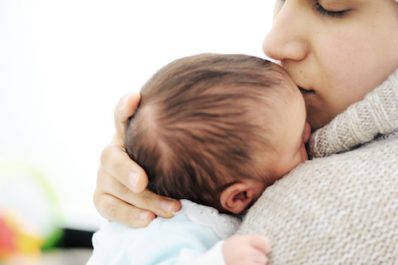 Women in New York are helping to raise awareness regarding public breastfeeding by marching through the subway while breastfeeding.
The march was organized by NYC's Breastfeeding Leadership Council which organizes the subway march annually, according to NowThis Her.
Mothers and advocates held signs and chanted, "Breasts are best, don't settle for less," as they marched to subway stations and proceeded to ride various subway trains.
The goal of the organization is to help bring awareness to the fact that many women are still shammed for breastfeeding in public, even when NYC has a law protecting against it.
Forty-nine states have laws protecting women from being told not to breastfeed in public. Arizona is one of those states and also has a law protecting mothers from being cited for public indecency, according to the National Conference of State Legislatures.
Yet many people still feel public breastfeeding is lewd and should not be allowed.
During a 8 Answers thread on Quora, someone asked why do women still get shamed for publicly breastfeeding a child?
The most common answer regarded how breasts have been overly sexualized in today's culture and are now primarily seen as sexual objects. Humans are mammals, and like all mammals, females have breasts which lactate during pregnancy to provide milk to nurse their young.
Breastfeeding has long been the preferred method of nursing newborns because the milk produced by the mother has essential nutrients that help the child's immune system develop.
Not only does breastfeeding benefit the baby's immune system, it also protects the baby from illness, disease, and even helps prevent allergies and asthma, according to HealthyChildren.org.
And it's not only advocates and mothers in NYC that want to help raise awareness to the importance of breastfeeding.
The World Alliance for Breastfeeding Action is a global network that helps promote breastfeeding while providing education
around the world about the importance of breastfeeding.
Each year the WABA holds Breastfeeding Awareness Week during August 1st through the 7th.
During the week educators, mothers, and advocates aim to raise global awareness while protecting and promoting breastfeeding.
The hope is with awareness and education the stigma around public breastfeeding will vanish once and for all.