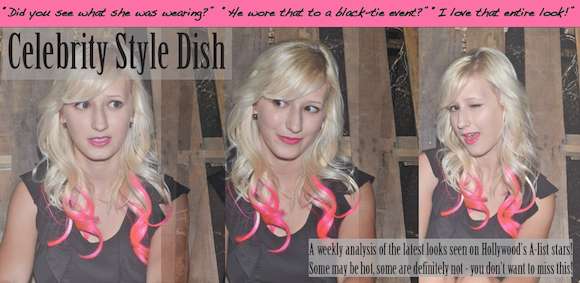 Celebrity Style Dish is a SmartFem.com weekly series that features some stylish and some that aren't so stylish looks seen on celebrities throughout the week.
I have dished on the looks of  two lovely ladies from Modern Family, street style from celebrities Gwen Stefani and Amber Heard and the up-close beauty of Selena Gomez and Kate Upton. Take a look below for an analysis of the not-so-chic looks pictured on Taylor Swift and Kim Kardashian.
Taylor Swift
This interesting outfit from country..or..pop..singer Taylor Swift was caught during a taping for British X Factor in London, and I have to be honest: I do not care for it. It isn't the sparkle, because I love me some sparkle! But, it was all the sparkle combined. Given, this is a stage outfit so it should have quite a lot of jazz to create a vibrant presence, but it is just not right.
The high waisted shorts feel cheap and lack the proper luster of that style, especially when paired with a plum-like sweater. Perhaps, if the sweater was paired with an alternate bottom it would work, but with these shorts it is just not okay. The sparkly shoes are also just too much for this look.
I really do love the singer's new hairstyle, both the color and the shape is really flattering on her!
Photo Credit: People
Kim Kardashian
Kim Kardashian doesn't typically upset people when she steps out on the street, but there is always a first time right? I think she has finally had it, stepping out in an oversized, sun-flower colored jacket/blouse paired with a glossy mini skirt and overly strappy heels – not an average outfit for a lunch outing.
I am all for menswear-inspired ensembles, but the enormous jacket looked like it was a hand-me-down. Then she continued the bad taste with her choice of black, strappy heels, they were not appropriate for her outfit at all.
The one thing I did love on Kim was her choker necklace! I love the intricate jewels, if only she chose to wear it with a different outfit.
Photo Credit: People