Don't look now, but identity thieves are gearing up for the holidays just like you. They know that transactions are flying around and
everyone is looking for great deals…A perfect storm for prying on people and catching you off guard.
There are so many ways for thieves to steal personal information and unfortunately they know that during the holidays people tend to be easy targets. According to the McAfee Highlights of the Top 12 Scams of Christmas, the schemes used by thieves can be as simple as selling "bogus gift cards" online or as sophisticated as setting up fake charities.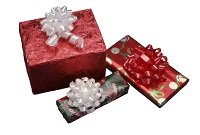 The simple fact is that we cannot be on-guard all the time and there are far too many ways that you and your loved ones could be subjected to one or more of these scams. Many of these lead to identity theft events that can be very harmful. So how does anyone feel completely safe from these crafty identity thieves? Make a small investment and obtain the ultimate safety net….purchase high quality, identity theft recovery and restoration services. It is much less expensive than monitoring services (which you can actually do quite easily yourself), and provides the greatest form of ultimate protection.
SmartFem has arranged with Santa to obtain this kind of service for members from a top quality company that has been in business almost as long as Santa himself…over 100 years. This deal is better than any other you will find under the tree this year. Five (5) years of Fully Managed Recovery Services for a WHOLE FAMILY (valued at $500+) for a one-time cost of $59.00. This is not only one of the best gifts you could get for your family, but an incredibly thoughtful gift for others (friends, relatives, employees, or perhaps clients.) ACT NOW….this is a limited time offer!!
Click here for more information on this exclusive offer through SmartFem or click here to register now.  Keep the identity thieves away this holiday.