If you own a television there is a fairly large chance that you have seen the hit series Mad Men, and immediately have fallen enamored with the style of the leading ladies on the show, I know that I fell under the dashing spell! My two favorite styles from the show come from some sensible ladies, Betty Draper Francis, played by January Jones, and Joan Harris, played by Christina Hendricks, who are both chic, sophisticated and impeccably put together 24/7.
Their dreamy ambience is made from their form-fitting dresses, lavish jewelry, flawless hairstyles, demure make-up and sultry smiles they wear in every scene. Now that those have been laid out, you can emulate their style easily and affordably.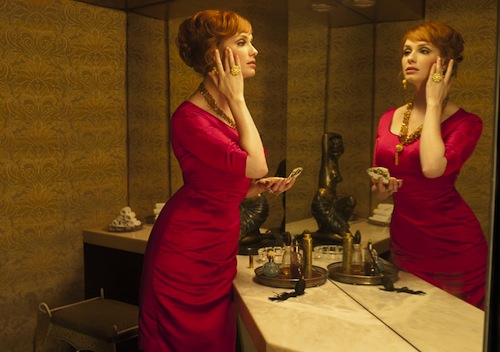 The form-fitting dresses the Betty wears (sometimes) and Joan practically lives in throughout the show model their distinctively different silhouettes, both gorgeous, and that means you can do this too. Remember last fall Banana Republic debuted their Mad Men capsule collection, which was quite the hit, but other brands quickly followed with similar designs and silhouettes making these sultry yet dignified looks accessible for you!
One great site for these feminine frocks is ModCloth – they have a large selection of fun dresses that aren't too expensive, which is always a plus! A great thing to remember when emulating these leading ladies is that it looks good on practically any body type. The cinched waistlines draw the attention to your lovely curves, longer hemlines are always fun to play around with the the intricate details that most of the ensembles feature around the neckline leave each passerby with a demure peek at your personality!
But aside from the ensemble, to fully work the part of a 60s lady the hair and make-up must also follow suit. A clean complexion, black, winged eyeliner, luscious mascara and bold lips combine to create a quintessential yet simple look. Estée Lauder has also embraced the swinging styles of Betty and Joan and created a limited edition ruby lipstick that is a complete must-have!
The hairstyles are also super fun and flirty, but are all about the volume! Three tools to complete the look: dry shampoo powder, thin-tooth comb and hairspray. Take about 1 inch sections, comb the hair straight up and sprinkle a little dry shampoo at the roots,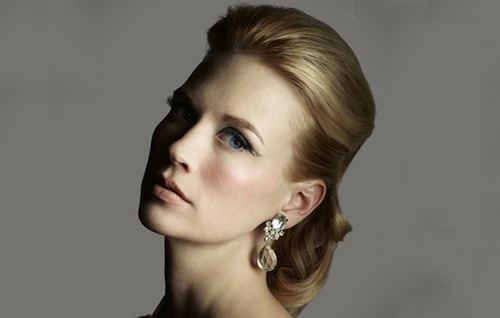 then spray a teeny bit of hairspray and finally back comb down at the roots and yet again add a sprinkle of hairspray. Continue to do this chunk by chunk towards the back of your head and down the sides. Then take a brush and lightly comb over the top layer and style as you wish. Of course, don't forget to apply a final coat of hairspray to secure the look and don't be afraid of adding more security with bobby pins and fun jewels or headbands!