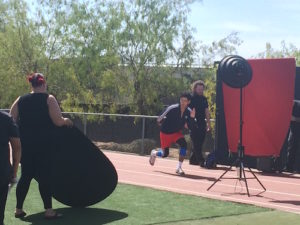 Phoenix Fashion Week has officially kicked off and that means a new Model of the Year will be named.
This year over 200 models attended the open call as Phoenix Fashion Week began their search for a new top model.
Only the top 40 models were picked to compete in the four month long bootcamp which includes agency go-sees, print challenges and a runway challenge.
"We're teaching them how to become a brand and a professional," Brenna Moss, Operations Director for Phoenix Fashion Week, said.
Part of the competition includes a print challenge where four teams of ten are put together to act out a theme.
And one theme chosen was Olympics, a nod to the summer Olympics held in Rio, Brazil this past August.
Held at Exos Gym in North Phoenix, the Olympics team had to turn various sports into a high fashion moment.
Kaylee Cottrell, 19, is competing for the top model title for the second time.
Gearing up to turn rhythmic gymnastics into a high fashion, Cottrell has learned bringing your A-game and utilizing your skills to deliver an amazing photo is how you stay in the competition.
"Phoenix Fashion Week already has a reputation of professionalism, that bar is set high, so being in the top 40 you really have to deliver dedication and professionalism," Cottrell said.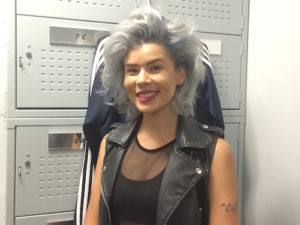 This year local stylists were also asked to take one of the four themes and style the shoot.
Stylist and designer Nuvia Magdahi was assigned to the Olympics theme.
A veteran with Phoenix Fashion Week, Magdahi had quite the challenge ahead of her to make sportswear meant purely for athletic performance emulate a high fashion look and feel.
"I really had to do a lot of research," Magdahi said. "I wanted to incorporate the flags of the different countries as well."
Pulling inspiration from various sports like archery and fencing, Magdahi decided to go with fabrics and textures that could double as high fashion while still looking athletic.
"I wanted to do a lot of mesh and keep it sporty," Magdahi said.
Other themes included Royalty, Color Pop and Furocious, with furs provided by Michelle Parkhurst of Evans Furs.
Her first time working with Phoenix Fashion Week, Parkhurst had the challenge of selecting furs to be shot in the middle of Arizona's summer.
"I provided items that would fit creatively for the shoot but were currently in fashion," Parkhurst said.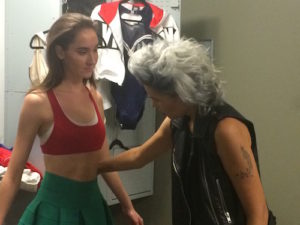 Parkhurst is excited for the opportunity to have her furs walk the runway during Fashion Week, as well.
"It's a new type of way to show furs as fashion," Parkhurst said.
The Model of the Year will be named during Pheonix Fashion week which goes from October 12 through the 15.
One male and female model will be chosen. The winners will sign a contract with The Agency Arizona.