Women's Enterprise Foundation's Joie de Vivre Event Puts On "Savage Botanicals" Fashion Show
When you think of nuts, bolts, cable ties and tree branches, you probably don't think of haute couture. It was these materials and more, however, that walked the runway at Women's Enterprise Foundation's Joie de Vivre event on February 20. The "Savage Botanicals" permanent floral botanical couture fashion show featured 10 hand-sewn gowns inspired by the late Alexander McQueen. Some of the fashion designers spent over 300 hours on the one-of-a-kind gowns, which have made their away around the country to showcase their unique beauty.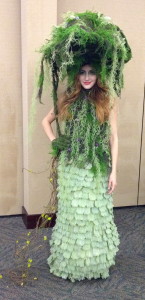 The Joie de Vivre, or "Joy of Life," event began with servers offering guests delicious complementary hors d'oeuvres and wine. Spellbinders, one of the event sponsors, stationed a table to let people craft together personalized 'Thank You' cards. Guests mingled with each other while bidding on silent auctions and raffle items valued at over $150, such as a Village Health Clubs and Spas membership package and Glow Goddesses Airbrush Tanning certificate. Meanwhile, the models arrived at 2:00pm that afternoon to get their hair and makeup done and eagerly awaited backstage to make their big entrance.
The show finally began and was divided into three categories based on the theme of each dress. The first category was the Nature Series, which featured gowns covered in Spanish moss, water lettuce, berries and fall leaves. The "Symbiosis Serenity" couture piece created a full skirt with water lettuce and a giant boat-shaped headpiece made entirely of Spanish moss.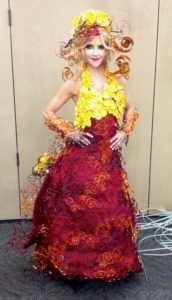 The second category was the Industrial Series, which used metals and wires to put together jaw-dropping pieces. The "Tendular Fusion" gown added a Spanish influence with copper, gold and red brown wires protruding from the skirt and hair. A stunning bright yellow halter top made of orchid petals added a softness to the hard metal.
The final category was the Breathing Series, and offered more elegant and luxurious show-stoppers using feathers, butterflies and orange marigolds. The "Surrendered Vertex" dress was designed by Cathy Grim Aifd, who repurposed her wedding dress for the design and contrasted the delicate white lace with the strength of deer antlers on top of the model's head. The finale gown generated "oohs and ahs" from the crowd, and was described as a "garden canvas" covered entirely in purple and blue hydrangeas.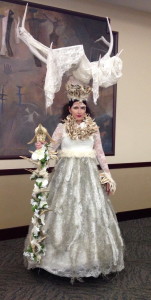 Guests were able to take pictures of the stunning couture gowns and some even posed with the models. The night concluded with the announcement of the raffle winners and guests taking home swag bags.
If you missed the event, you can see all of the beautiful gowns at the Phoenix Art Museum starting in April.