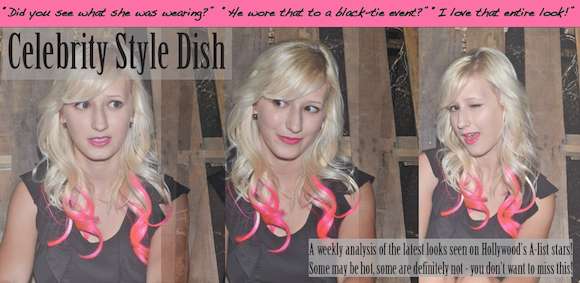 Celebrity Style Dish is a new SmartFem.com weekly series that will feature some stylish and some that aren't so stylish looks seen on celebrities throughout the week.
Last week I looked at the style of Christina Ricci and Ryan Lochte but this week I am looking at Emma Watson and Keith Urban, who both certainly show off their own unique personality in their outfit choices!
Emma Watson
Emma Watson dazzled at the screening of The Perks of Being a Wallflower in New York this past weekend. I love the rouching on her blouse and how it cut and drapes over the left shoulder. The decadent white skirt adorned with buttons had a simple yet chic silhouette – the length was ideal for her petite figure. The blouse and skirt combination was perfect for the fall event.
Her use of the full white color scheme is like being on cloud nine – super lustrous and dreamy! Emma Watson's long bob was deeply parted, which is a major trend this fall, and styled in a sleek, mature fashion. The pointed toe heels were sophisticated  and cohesive with her sharp hairstyle. I love that she wore minimal jewelry, keeping this look modest yet intriguing.
Photo Credit: NYMag
Keith Urban
If you haven't heard yet, Keith Urban is a new judge on American Idol! Not only is he going to be judging hopeful singers, but he is also going to be teaching a little lesson in laid back fashion.
Of course his lavish tresses catch everyone's eye, he somehow makes long hair acceptable for any occasion.
Keith Urban's super cool vibe is truly what makes his style unique and wearable. His slightly faded jeans show wear but the fit shows he knows what looks good on him. The simple T-shirt is great for him, it keeps his style simplified and easy. I love the addition of the dark-washed denim jacket – not only does it have a stunning finish, but it really ties the whole outfit together.
Photo Credit: Just Jared