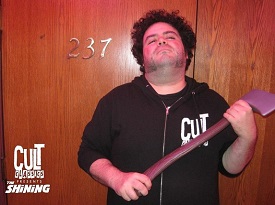 Pollack Tempe Cinema Theater 1 was nearly filled to the brim. There were anticipating smiles throughout the carpet-lined room. "CULT CLASSICS," was what my, and everyone else's ticket read. Black words on thin white paper. Despite the fact that we were all there to watch one of Stanley Kubrick's masterpieces, I couldn't help but wonder whether or not if we were all dull boys and girls in that room. Perhaps, but if so, we were proud of it. "We're not ironic here," stated Victor Moreno of Cult Classics prior to the showing of The Shining.
The Shining was released in 1980. Kubrick never won an Oscar for directing it; in fact, it was even nominated for a Razzie in 1981. Now, The Shining is renowned as a cult classic. Hundreds of films in could be considered "cult classics." From Pee Wee's Big Adventure to Fight Club, these films come in all genres with audiences as quirky as the movies themselves.
"When I moved to the valley, there were a few people who were…showing like B movies and things like that," said Moreno, who, according to the Cult Classics website, cultclassicsaz.com, is the "Programmer & Event Director/ Graphic Design." Moreno said that after moving to Arizona from Los Angeles he noticed this fascination with film and decided he wanted to join in. Cult Classics is a film series based in Tempe that prides itself on honoring the movie and the movie-goer with an interactive theater experience.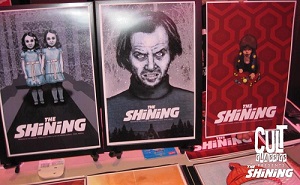 Moreno is responsible for the creation of the organization as well as the bright, detailed shirts and prints that Cult Classics sell at each of their showing. When buying tickets for the event, whether online or at Zia Records (a sponsor of Cult Classics), one has a variety of options to choose from. General admission is simply $11; however there are multiple other choices. For example, during the showing of The Shining, in addition to the general admission tickets, there were a few more expensive options which included prints designed by Moreno. One of which was a picture of the twin girls from Kubrick's thriller classic.
I have been to a few Cult Classics screenings, but one of my favorites, aside from The Shining, was The Princess Bride. The volunteer members of Cult Classics brought Buttercup and Wesley themed props and sold shirts with Fezzik the Giant's face on them. Check out the album from the evening here!
The originality of Cult Classics adds to the local culture of the Tempe area.The city is an artistic hub. From record stores, concert venues and even independent theaters, college towns and cities are often overflowing with entertainment based events.  Mill Avenue District Community Arts Project (MADCAP) Theaters, although now closed, was a great example of this. There were similar events to the Cult Classics screenings held at MADCAP. For example, before the closure of the venue, sophomore at Northeastern University, but Scottsdale native, Emilio Cariati attended screenings of The Room held at MADCAP, "The awful cult movie everyone wants to see," in the words of Time Magazine.
"The place was low budget but arguably the most fun I've had at a movie," Cariati recalled. Moreno also mentioned that he thinks Cult Classics is going to remain in the area and be "more of a local thing."
Despite the impossibility of the question, Moreno compromised to answer the question of his favorite cult classic by revealing the first movie he could remember seeing in a theater that had an effect on him. The Last Starfighter (1984) was the film he cited. "It was really cheesy but really earnest," Moreno said. And maybe that is part of what makes these movies so popular; the undeniable humanity in them. People relate to movies like Fight Club, in some twisted sort of way. We search for things in film that we can carry around in our pocket, whether it's a character, a quotation, or a theme.
The overall atmosphere is what is truly to be desired by attending these screenings. Pollack Tempe Cinemas, the series' primary showing location, has an excited energy on Cult Classic nights. There are usually lines inside and outside of the theater. There are always die-hard fans dressed up as their favorite character. Even children attend, excited to see their parents' favorite films as they first saw them. Once in the theater, the audience emanates that special feeling of knowing an inside joke. While the people seeing the latest action film in Theater 2 do not quite get it.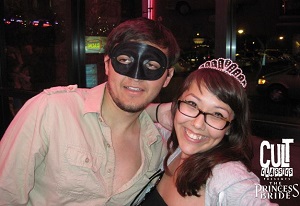 A Cult Classics showing is an ideal date night. Not only are you spared the burden of flashing your iPhone to document the evening, (Members take pictures of you with movie-related props) but you get to experience the thrill of seeing a favorite film as if it were the first time all over again.
I encourage all to attend the next showing of The NeverEnding Story on July 20 at Pollack Tempe Cinemas! See you there!
For more information on Cult Classics, check out their website and Facebook page. Ticket information for the upcoming shows is available as well.