Exclusive movie review of The Lone Ranger by Lee Cooley.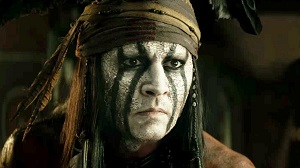 "Cowboys of the Caribbean"
If you are old enough to be fan of The Lone Ranger TV show that starred Clayton Moore in the 1950s, then you may not like the new movie starring Johnny Depp as Tonto. This time around, Tonto has the lead role as Depp shares producer credits with mogul Jerry Bruckheimer and director Gore Verbinski.
If you're a diehard fan of the Pirates of the Caribbean movies starring Depp, produced by Bruckheimer and thrice-directed by Verbinski, then you may not care for the soft supporting cast of Armie Hammer as John Reid (he's no Orlando Bloom) and Ruth Wilson as his sister-in-law (she's no Keira Knightley).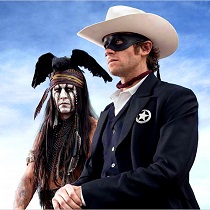 However, if you like two and a half hour westerns that make light of The Masked Man, you're in luck! Anyone who knows how Reid became the Ranger may not appreciate Hammer's lighthearted portrayal, but could get a kick out of Depp's homage to Dustin Hoffman in Arthur Penn's 1970 film Little Big Man.
As the oldest, living survivor of the Little Big Horn, 121-year old Jack Crabb (Hoffman) recounted his life growing up in the Wild West. As Tonto, Depp puts Oscar-winning makeup effects artist Joel Harlow to a similar test with a carnival sideshow narrative that is better witnessed in the theater than seen on DVD.
Trivia buffs will giggle at the fact that Tom Wilkinson breaks bad in this film after portraying the father of Brit Reid in Seth Rogen's equally-inappropriate send up of The Green Hornet. Since the Hornet is the great nephew of the Ranger, why not make another film that can't possibly break even stateside?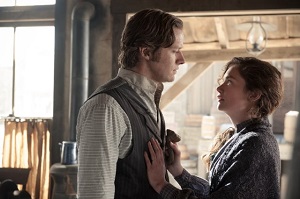 Western author Fran Striker wouldn't recognize either of the characters he created for 1930's radio audiences, but neither will most film fans in China and Russia who just can't wait for another Hollywood shoot 'em up! Sadly, there are no new ideas – only tired formulas banking on foreign box office receipts.
Just because one of the Top 5 grossing western films in the U.S. was the Depp-Verbinski animated feature Rango doesn't mean that Cap'n Jack & Company can recapture lightning-in-a-bottle with another genre; which explains why the fifth Pirates installment is currently in pre-production. Savvy?
The Lone Ranger Trivia Timeline

1933: First of nearly 3,000 radio episodes airs
1938: First film serial debuts with purported U of A Wildcat "Chief Thunder Cloud" as Tonto
1949: TV show premieres with Clayton Moore as Ranger and Jay Silverheels as Tonto
1956: First of two feature films released starring Moore and Silverheels
1981: The Legend of the Lone Ranger bombs with no star appeal at the box office
2003: The WB Network airs a two-hour TV pilot that was never picked up as a series
2013: The Lone Ranger jumps back in the saddle to find those thrilling days of yesteryear!