For those of us that celebrate Christmas, we know that it is one of a child's favorite days of the year. They look forward to Santa, the presents and if they're mature enough to know…family time.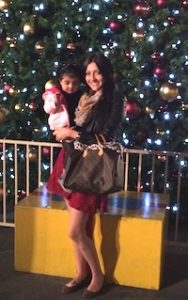 But what do you do when you're a single parent and still trying to give them the best during the holiday season. It's simple… you give them YOUR best.
Although I am not as financially stable as I would like to be, I have come to realize that I cannot buy my 18-month-old's happiness with money. But I can give her what is in my reach, and what I know she will get the most use out of.
This year, I decided to limit her Christmas presents to only two, a tricycle and a play kitchen. Why? Because they are things that she can get a lot of use of, and don't come with a million little pieces that are just going to end up in the trashcan.
One good tip is to get your child something that he or she can enjoy not only inside, but in the outdoors as well. Arizona weather is amazing, and nothing makes a child happier than being active and around nature.While an Xbox or tablet might be entertaining, it only enables children to sit around inside and not get the required 60 minutes of physical activity.
Another guideline is to pay close attention to the toys' age recommendations. While a lot of us parents choose to look past those safety standards, they can make a huge difference in keeping your child from harm.
Remember, you don't have to spoil your kids in order to make them happy. If you educate them while they are young, they will learn the value of money, and the meaning of Christmas.