Thank you, Mr. Salvatore Ferragamo, for the wedge heeled shoe!   Those of us who love the wedge heel for its sturdiness and comfort will forever be grateful to Mr. Ferragamo.  While he is perhaps best known for his rather boring flat, the Vara shoe, Mr. Ferragamo designed the cork wedge in 1938 and also specialized in opulent custom designs when he was known as the "shoe maker to the stars".   Today, you will find the wedge heel in many materials such as raffia, wood, and Lucite and today's technology makes the current wedges much lighter and more comfortable.
Many great colorful wedges are available this summer and are the perfect complement to skirts, dresses, knee-length shorts and skinny pants.  Look for wedge heeled pumps and boots this Fall and you'll even find wedge evening shoes.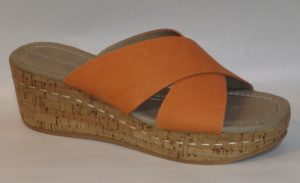 Oh yes, think how much more comfortable it would be to stand at a cocktail party for two hours in wedges rather than high heels!
If your flip-flops are taking center stage this summer, please consider the wedge.  It is better support for the arch of your foot and a better fashion statement!