The 13th annual Phoenix Business Journal Dynamic Women in Business 2014 was a night to remember for hundreds of people in the valley.
The dinner was hosted Thursday evening at the Montelucia Resort in Scottsdale. 25 extraordinary women were honored for their achievements as leaders in the community. The honorees were chosen based on recommendations from fellow leaders and peers.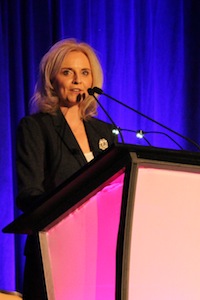 Don Henninger, publisher of Phoenix Business Journal gave the opening remarks and emceed the event.
Nicole Stanton, the First Lady of Phoenix was the keynote speaker. Nicole was proud to be part of an event honoring such hardworking women in the community. Nicole emphasized the importance of mentorship and how much of a difference it makes in women's lives.
Don Henninger introduced the honorees as they walked up the stage and answered a question picked out of a bowl. The women did an outstanding job at coming up with answers on the spot.
One of the honorees Mary Ellen Dalton, president of Health Services Advisory Group talked about the importance of goals and goal setting. "If you don't have goals, you don't have a map of where you want to go," she said.
The Phoenix Business Journal also honored owner of Barrio Café and Barrio Queen, Silvana Salcido Esparza. When asked about how to reach success, she replied, "the success comes because I do what I love."
Among the honorees was SmartFem's very own Lea Haben. Lea was nominated for her hard work and involvement in the community. She was nominated by her dear friend Debbie Gaby. "I nominated Lea because she is a pillar in our community," said Debbie.
Overall the night was full of laughter and happiness. These women know that success only comes with hard work and dedication. Their involvement in the community is what makes Phoenix such a great place to live.
Check out a copy Phoenix Business Journal to read more about the honorees.