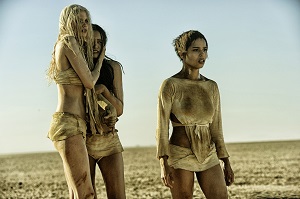 When Mad Max officially came out in theaters, I wanted to see it but I was not in any rush. All I really knew is that Tom Hardy was Max and Charlize Theron's head was shaved. Now, for some that may be enough, but it did not really convince me at first. I let it go. Instead, I saw the Avengers: Age of Ultron again.
A few days ago, my boyfriend suggested we go see the movie and that he had heard great things.  It was raining and we were bored. I figured, why not? He hates superhero movies and it took all his strength to see the Avengers sequel with me. I was feeling generous and curious, so I conceded and we went to the theater
Boy, am I glad I did.
Mad Max: Fury Road was a great movie.  My fellow cult classic fans will understand that Mad Max is an all-action-all-the-time franchise. George Miller, the director, was well aware of the fans' need for action but also a much needed GOOD movie.
Miller's filmmaking is as genuine as ever. The crazy stunts you see on screen are real. The flame throwing guitar? Real. The "Pole Cats" who swayed back and forth on the vehicles? Real.
"Fury Road," is full of stunning visual effects and death defying stunts. It keeps you on the edge of your seat the entire ride, literally. If you don't go see it for the beauty of the African landscape Miller and his crew shot the film on, go for the women.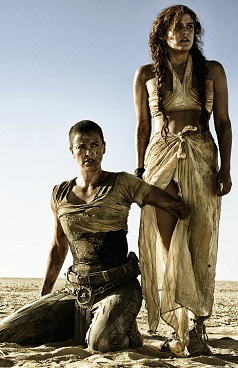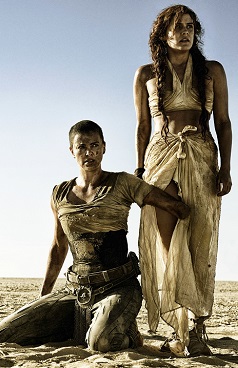 When I say women I'm talking about the gorgeous models and actresses who played the main characters in the film. Wait, did I say main characters? Yup. Max, to the dismay of many anti-feminists, hardly had any lines on screen. Charlize Theron, who plays Imperiator Furiosa, reminds audiences that women can be the stars of the show and deal twice as much damage as her male "counterpart" and with only one arm.
In the film, Theron's character is rescuing a group of women who are used as "breeders" for the leader of the post-apocalyptic world. From young actresses making a lot of buzz like Zoe Kravitz to Victoria's Secret Angel Rosie Huntington-Whitely, the ladies who play the war brides kick more butt than Mad Max himself. Miller made his characters competent, empowering, and meaningful in their motives to sacrifice themselves for the greater good when they ask, "Who killed the world?". Whether he knew it or not, he created one of the best female-driven action films of the era.
After the movie, although it was a bit lengthy, I was speechless. The ending of the Mad Max: Fury Road was satisfying and it left the audience out of breath. I was a bit exhausted from the most hardcore ride of my life, but it was worth it.
Miller announced there will be a sequel to his reboot and audiences are hoping it will be more of this refreshing filmmaking he implemented in "Fury Road."