Breakfast is undeniably the most important meal of day and in my opinion, the most delicious. I love having choices and with breakfast you have the option to start your day on a sweet or savory note. At the Breakfast Club the possibilities are endless, there is something to make sure everyone woke up on the right side of the bed. Whether it's breakfast, brunch, drinks or lunch, this modern and vibrant space provides an inviting energy everyone is sure to enjoy.
The Breakfast Club has a menu containing dishes with southwest flavors, sweet breakfast classics, and mouthwatering omelets, sandwiches, scrambles, salads and other lunch items. In addition to the plethora of meal choices, the Breakfast Club has a full service specialty 'barista' bar, a variety of fresh squeezed juices, cocktails, teas and more.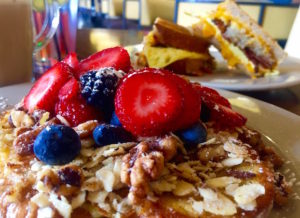 A sweet favorite of mine is the BC Signature French Toast; it's available as a full meal or by the slice since the portions are large enough to share! It's Challah French toast topped with fresh berries, candied walnuts, slivered almonds, and finished with a dusting of powdered sugar. It's dessert and breakfast all rolled into one which is always an unbeatable combination.
If you're looking for a more traditional approach to breakfast, give the Breakfast Grilled Cheese a try. It's a sandwich piled high on grilled sourdough bread with eggs, bacon, fontina and cheddar cheeses. The greatest part though is the hash browns! Yes, hash browns on the sandwich, it is a real game changer.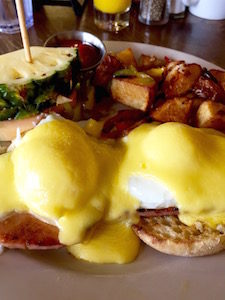 A specialty of The Breakfast Club is their selection of nouveau twists on the classic Eggs Benedict dish. All are served with poached eggs and hollandaise sauce. But, you have the option to choose from the traditional carved ham, a 4oz. filet mignon, carved roasted turkey, smoked sockeye salmon or marinated Portobello mushrooms as a vegetarian option.
No matter if it's a sugary sweet or decadently savory, you will leave either of The Breakfast Club locations feeling satisfied and ready to tackle the rest of your day!
Downtown Phoenix: CityScape, 2 E Jefferson St #22-213, Phoenix, AZ 85004
Old Town Scottsdale: 

 

4400 N Scottsdale Rd, Scottsdale, AZ 85251