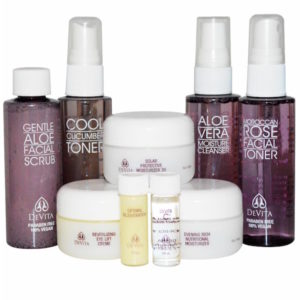 I have recently come to grips with the fact that my skin is changing. Closer to thirty than twenty-one, I have accepted that my skincare routine is in need of a makeover. Using just an eye cream, cleanser, and moisturizer isn't enough.
I have always had dry, sensitive skin and bad allergies. I suffer from dermographism and have to be very cautious when I try new cosmetics or facial products. I once attempted to jump on the mineral-makeup bandwagon only to leap off with nothing but a face rash and swollen eyelids.
So, needless to say, I was slightly skeptical when I was given an all-natural skincare kit by DeVita to try.
A faithful user of Retin-A and cleansers with salicylic acid, I wondered how purely organic products would help target concerns I have with fine lines and the occasional breakout?
Well, it has only been five days since receiving the mighty kit from Cherylanne DeVita and I am in love. Honestly, take it from a skincare addict, these products are worth a try!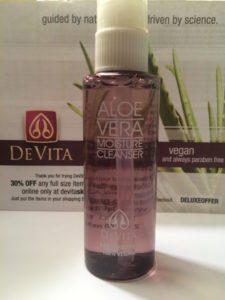 2 oz Aloe Vera Moisture Cleanser: The cleanser reminds me why I love a little suds when I wash my face. For starters the scent is amazing. You won't get a soapy feeling, and this cleanser even takes off stubborn mascara and under eye concealer. One thing I love about this cleanser is how soft and hydrated my face feels after washing it instead of the dry feeling I tend to get with other products.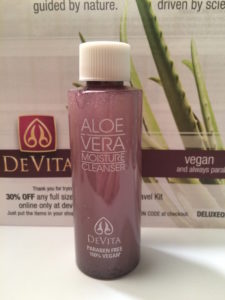 2 oz Gentle Aloe Facial Scrub: I love a good exfoliator, especially because changing seasons grace me with dry patches on my cheeks. I must admit when I first used this exfoliator it felt too gentle, and thought it wasn't capable of really sloughing off my dry skin. Boy was I wrong! The gentle beads do exactly what my power-house scrubs do while keeping my sensitive skin happy.                      
2 oz Moroccan Rose Facial Toner: Two words – Rose Oil. Enough said. I love rose oil, and for those who have never used it on their skin, it's time to see what models like Miranda Kerr are raving about. Rose oil is wonderful and this toner combines two amazing skincare products into one. Your face will glow after using this toner.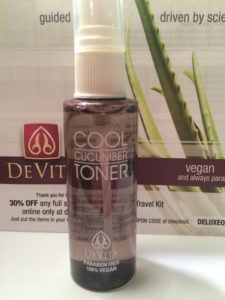 2 oz Cool Cucumber Facial Toner: What I love about this toner is how gentle it is. Because I have started a new Retin-A cream, I am in the process of experiencing the typical dry skin and peeling associated with any retinoid. I was nervous using a toner on my extra sensitive skin would be a bad idea, but nevertheless I closed my eyes…held my breath…and…a burst of cool hit my face. The burning sensation I had experienced in the past with toners was non existent.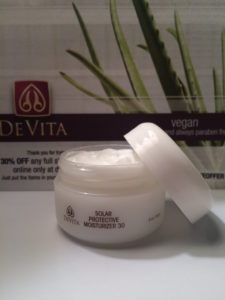 1/2 oz Solar Protective Moisturizer SPF 30: DeVita knows many women forgo sunscreen because it irritates their skin, causes breakouts, or creates a film that is difficult to apply makeup over. Because of these factors she created a sunscreen that combats all of these concerns. Using only zinc oxide, this sunscreen will not irritate skin, cause an oily feeling, or clog pores. And the best part is you're protecting your skin from the harsh Arizona sun. Now that's beautiful!
1/2 oz Evening Rich Nutritional Moisturizer: A good moisturizer is so important to me, especially an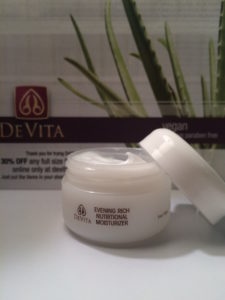 evening moisturizer. At one point my skin was so dry I resorted to slathering coconut oil all over my face to get hydration back into my skin. This cream, in just five short nights, has managed to take my Retin-A dry skin and heal it roughly 60 percent. Two thumbs up!
1/2 oz Revitalizing Eye Lift Creme: All hail the holy grail of eye creams! One product I started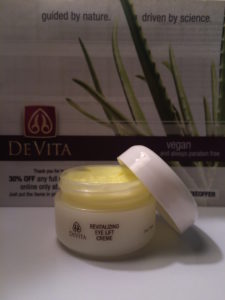 using at a very young age was eye cream. My allergies tend to cause patchy skin around my eyes, and over the years I have managed to try every eye cream out there. From expensive creams to over-the-counter, nothing seemed to help my dryness. I was so desperate that I resorted to piercing vitamin E capsules and slathering on the oil to hydrate my under eyes. This cream, however, not only has all the right ingredients like vitamin A, K, and E, but it feels like pure silk.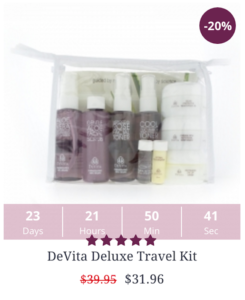 The DeVita kit also includes two serums, a Vitamin C serum and an Optimal Rejuvenation serum. I have yet to try them because I am in the early stages of my Retin-A process, but if they are anything like the rest of the products they will be nothing short of amazing.
Overall, I'm a skeptic turned believer. When reading the product details in the different skincare items I was not surprised to see ingredients like coconut oil, jojoba oil, avocado and chamomile. It makes sense why DeVita's skincare line works so well, it's packed with amazing superfoods!
No matter what your age is, it's never too early or too late to introduce great quality skincare products into your regime. The best part? DeVita's skincare line is reasonably priced. You really get a big bang for your buck in this kit.
Visit devitaskincare.com for more details.