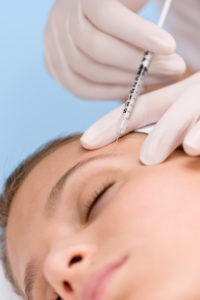 We all want to maintain a youthful look, and procedures like Botox have become increasingly popular among women.
But interestingly enough, not many women talk about getting Botox, and the pros and cons associated with deciding to use this method for a more invasive anti aging method.
If you're new to the world of Botox here are a few things to consider before having it done.
Get a good doctor.
Botox, like any procedure, is something not to be taken lightly and researching providers is a must.
When it comes to injecting a substance into your face, make sure the person doing it is an aesthetician, cosmetic surgeon or dermatologist.
These professionals are trained not only in the field of medicine, but in facial anatomy as well.
Not to mention they are working in a sterile environment where care is of the utmost importance, and not injecting a Botox-like substance into your face in your home garage.
Let's not get botched, ladies. This is not the time to look for a deal.
Are you eligible to receive Botox?
Going to a medical professional not only ensures you don't receive cement instead of Botox injected into your face, but it also ensures you are a candidate to receive injections.
Health concerns like nerve or muscle disorders will most likely not make you eligible to receive Botox, according to Huffington Post.
Talking with your doctor about your health and other concerns is necessary before receiving injections, and a licensed doctor will absolutely be asking these important questions before placing a needle to your forehead.
Know the risks associated with Botox.
Like anything in this world, getting Botox comes with certain side effects and risk factors, all of which you should be made aware of before getting it done.
Speaking with your doctor about certain side effects you may experience will allow you to make a conscious and informative decision about whether or not your should schedule Botox injections.
Some people experience brushing at the injection site, soreness and swelling. Others have experienced nausea, headaches, facial drooping and trouble swallowing, according to Huffington Post.
Make sure you're aware of what you can expect after getting your injections before scheduling your appointment.
Realistic results and maintenance.
Botox only lasts for about four months, which means if you are ready to make a commitment then Botox might be for you.
Botox is not a one-and-done kind of procedure. In order to maintain your desired results you must go in and have injections done based on what your doctor recommends.
If you are okay with the cost and upkeep then Botox might be a great fit. Otherwise, if you know you're unable to get into the doctor's chair maybe three times a year, Botox might not be the right fit for you.
Like any procedure, knowing the facts behind the product will help you make an informed and educated decision, and going to a licensed medical professional and asking questions will ensure you're prepared, no matter what you decide.