Winter in the Desert: Tips for Dressing for a Warm Winter
It's mid-November and by now, Arizonans and West Coasters alike are experiencing the warmest winter ever.
When temperatures go from 55° F to 85° F in a matter of 2-3 hours, the giant coat you wore to work may seem silly now that you're sweating.
It's been long determined and accepted that "layering" is the key to a successful and versatile winter wardrobe in warmer climates. But looking bulky in the morning and changing into shorts in the afternoon can be a drag and time consuming.
Here are a few tips on how to effectively layer and wear clothing during this unpredictable weather:
Choose layering pieces wisely. Wearing a tank top, a long sleeve shirt and a sweater may initially appear the best way to stay warm and still be able to shed your outfit as needed; however you will be stuck lugging around your clothing all day. Before you know it, half of your wardrobe will be in your car or office. To avoid this scenario, try something like a dress and a coat. Tights and a skirt with a cardigan will keep you warmer than if your skin was exposed, but still thin enough to not sweat in the afternoon.
Shoes do matter. Although it may be tempting to wear long socks and boots, your feet will thank you for not doing so. Come 2:00 p.m. they will be sweating and begging for a reprieve from their lace up or fur-lined prison. Instead, opt for heels and pantyhose or simple flats. Unless you are hiking or your office is constantly unnaturally cold, stick with the year-round staples for footwear. And please, no flip flops.

It's time to retire the shoe that's only appropriate if you live in San Diego 9 months out of the year.

Accessorize wisely. Let's face it, it's not cold enough to wear scarves all day yet. Hopefully we will fall into scarf weather sooner than later, but until then, keep your outfit the same just change your accessories. Hats, shawls, scarves, and gloves are not the traditional Arizona winter attire, but the fashionista inside of you can put them to work! Make sure you have neutral and basic colors in your winter accessories so you can easily transition your 80° day outfit to a 50° evening outfit.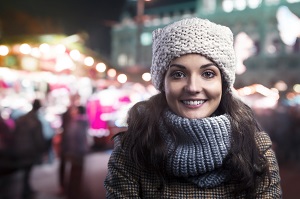 A common thread linking all Arizonans who yearn for chillier winters, is the winter section in our closets. For some, it's an untouched coat rack in the back of their closet that has some outerwear we can't bear to part with. For others it's the box labeled "WINTER" under our bed or in our garage. It's time to reopen those boxes and deal with the reality that if we are true citizens of the Valley of the Sun, we must retire the items that no longer fit
our changing climate.
Your West Coast wardrobe should be simple and play off of your regular attire for the year. Your high water jeans are fine when paired with a cute sweater and some accessories. What isn't cute is being visibly sweaty in your work meeting because you really wanted to wear your
fur lined vest.
Go through your closet and do some winter wardrobe refreshing so you can look cute and be comfortable all season long.