Do You Love Your Boss? Boss' Day is October 16!
Do you love your boss? Does he or she go out of their way to fix your schedule or approve your time off? It is extremely rare in our workaholic culture to have a boss who just gets you and your coworkers. Boss' Day is October 16 and it is the perfect opportunity to honor a supervisor or leader who is a positive force in the occasionally dreadful workplace.
With holiday season rapidly approaching, employees are rushing to take time off, get assignments done and handle the stress of the holiday season while maintaining some level of sanity at work. Don't forget that your boss is a person and is easily just as frazzled as you are!
Unless you have a boss from hell, or even if you do, a small gesture can go a long way. A gift, card, or something to show your leader or supervisor that you appreciate them will not only make them feel better, but you will feel good that you showed your appreciation for someone in your life.
Not all bosses are leaders and not all great leaders are bosses. Every supervisor has their own style of management and with any luck it works with the team they lead. Even if your boss is distant and seems inaccessible, a small token of your appreciation can do a lot of good this season. Plus, your boss will recognize that you are more than a cog in the machine of the workplace; you are a real person.
Three ways to show appreciation without overdoing it:
Write a community card: If you work in a large office or have a team of individuals you work closely with, this is a great way to go. Whether you address it from your department or your individual project team, it will let your boss know you appreciate them and remind him or her of the work you do. If you decide on doing this, a small gift would not be inappropriate, such as a gift card or photo of your boss and the team.
Write a personal card with no gift: Sometimes a card or note can be more effective coming from an individual than a large group. Use this space to tell your boss you appreciate their dedication and work, and depending on your relationship how they have helped you grow into your position. When you send a personal note like this, it is best to leave a gift out to avoid seeming like you are sucking up.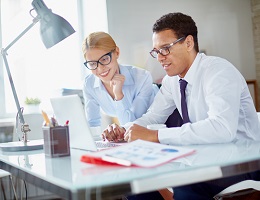 Make something for all supervisors: If you are in retail, or another field where you report to multiple supervisors, baking or making a dish for everyone to share in the breakroom is the perfect way to avoid spending your entire paycheck, but still want to show some appreciation. This is a great tactic if you do not especially like all of your leaders, but you want to do a little something for the ones you do.
Of course there are countless ways to show appreciation and graciousness to your boss. And if you are not particularly thrilled with your leader, just let the holiday pass unnoticed. It is only on some calendars and your boss likely is not expecting anything in the first place. However, for those supervisors who genuinely care about their employees and work hard, usually they don't get a lot of thanks from the team, or their own superiors anyway.