#Selfie, #Foodie, #OutfitOfTheDay. A different hashtag trends around the world every day. While hashtags are generally used to describe pictures or moods in a fleeting second, they have now begun to generate movements that have a more lasting effect. Lately, these movements have been centered around promoting positive self-images and ending female stereotypes — two things we are definitely on board for!
It all began with #LoveYourSelfie, a movement started by the TODAY show to explore body image and express positivity. The show asked viewers to take a selfie, a self-portrait photo, and share it with the world to promote self-confidence and acceptance. The response was huge, with people posting pictures of themselves without all of the makeup, flattering lighting and planned poses. As a result, people learned to not be so obsessed with their body image.
Then the world was introduced to the #BanBossy movement started by Sheryl Sandberg, the author of the popular woman empowerment book "Lean In." This hashtag movement was quickly accepted by the Girl Scouts and was also promoted by celebrities such as the Queen Bey herself. The movement brought attention to how men who exert their power are called "leaders," yet women who act this way are called "bossy." By banning the word bossy to describe women, they are encouraged to be assertive without the fear of being judged.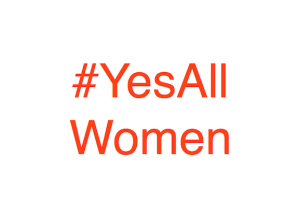 This week, my personal favorite movement went into full throttle. #YesAllWomen is now trending worldwide to showcase the pain, insecurity and anxiety women feel on a daily basis. The hashtag is a response to recent misogynist killings as well as a counter-argument to the common phrase used by men that "Not all guys are that way." While obviously all men are not bad, most women have grown up to feel cautious when doing simple actions such as getting dressed or walking alone at night.
I can't tell you the amount of times I have had to change my outfit because I was worried how a guy might perceive my confidence. Or the amount of times I have walked down the street day or night and was interrupted by the sound of catcalls or cars filled with men slowing down when they pass by me. As a woman, I should have the freedom to go where I please and do what I please without worrying for my life or diminishing my confidence on behalf of men. Shouldn't I? That is the question the world is beginning to ask itself, and I sure hope society — and men and women alike — is listening.